Chechen refugees forced to flee again
A woman from Chechnya, an invalid, sat by a mound of dirty possessions, her three grandchildren wandering in the dust nearby. Their refugee camp was emptying, but they were too poor to buy a ride on the trucks hurriedly heading out of here.
"I have been packed and waiting for three days," said the woman, Manzha Yansuyeva, 78. "I am hoping someone will pity us and help us move."
Following raids by Islamic guerrillas the night of June 21 in the southern Russian republic of Ingushetia, Chechen refugees are in motion once more, saying they are being blamed for the guerrillas' success and must leave or face retaliation in the night. They are deeply afraid.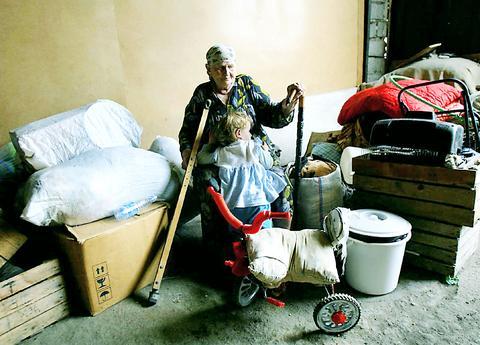 Manzha Yansuyeva, 78, with one of her grandchildren, waits for a ride from a Chechen refugee camp in Nazran, Russia on Sunday. Chechens are fleeing Ingushetia, saying the authorities are accusing them of assisting Islamic guerillas.
PHOTOS: NY TIMES NEWS SERVICE
The guerrillas overran police stations and checkpoints here early last week, and, dressed in police uniforms themselves, systematically executed law enforcement and military personnel who tried to come to their besieged friends' aid. Nearly 100 people died before the guerrillas withdrew.
In the days since, Russian and Ingush police, wearing ski masks and carrying assault rifles, have accused Chechen refugees of assisting and sheltering the guerrillas.
They have been rounding up Chechen men for questioning and, the refugees say, for beatings.
Thousands of Chechens are heeding what they regard as an implicit message, now fleeing Ingushetia for Grozny, Chechnya's capital.
"We haven't slept for days already," said Yakhita Dzhabrailova, 57.
Grozny hardly invites. Having suffered two wars in a decade, the city is in ruins, occupied by the Russian Army and controlled by grim-faced armed men whose affiliation is rarely clear.
Civilians frequently disappear, seized in what human rights organizations and local residents describe as a mix of kidnappings for ransoms and violence against residents accused of supporting, even knowing, the guerrillas.
A cornerstone of President Vladimir Putin's effort to convince the world that Chechnya has been stabilizing has rested on Chechen refugees returning home.
During the height of the second Chechen war, more than 100,000 Chechens sought refuge on Ingush soil; the Kremlin had hoped that coaxing them home would demonstrate security and hope. But tens of thousands of refugees had not complied with Moscow's wish, choosing a suspended state of poverty and grief in Ingushetia over lingering horrors in Chechnya.
It took the outbreak of violence in Ingushetia -- an expansion of terror, not a reduction -- to put them to motion.
Comments will be moderated. Keep comments relevant to the article. Remarks containing abusive and obscene language, personal attacks of any kind or promotion will be removed and the user banned. Final decision will be at the discretion of the Taipei Times.