Afrikaans radical leaves jail quoting Wordsworth
With the words of William Wordsworth on his lips and riding on a black stallion, Eugene Terre'Blanche trotted out of jail and back into South African politics yesterday.
A few dozen supporters greeted the white extremist leader with salutes, but they were outnumbered by a jeering crowd of black people.
The Afrikaner Resistance Movement (AWB) billed the rally as the start of a revival: It had waited five years for its leader's release after his conviction for beating up two black men. But just two trucks of members turned up to greet him at the parole office in Potchefstroom, a conservative town 40km west of Johannesburg.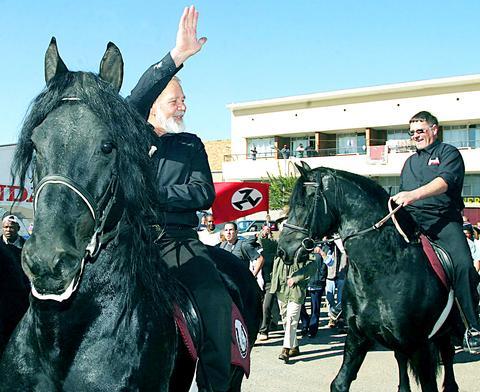 South African white extremist leader Eugene Terre'Blanche waves to supporters in Potchefstroom after his release from prison, Friday.
PHOTO: REUTERS
"There is no future for them; I'm just here for the show," said Steven Tsolo, 43, as about 100 black people jogged after Terre'Blanche, chanting, laughing and offering handshakes -- which he declined.
moses
The 60-year-old, trimmer than the stout figure who threatened a race war a decade ago, put on a brave face and cast himself as a reborn Christian who would shun parliamentary politics in favor of leading a cultural crusade to defend the Afrikaans language from encroaching English in post-apartheid South Africa.
"Moses led his people from Egypt into the desert because his people were slaves and God said to take them to freedom ... I am deeper in the knowledge that I am only a man, and that from now on my creator will give the right commands."
From a podium framed by two swastika-like flags, Terre'Blanche said he was a humble citizen who knew his duty to his volk -- his people. "I was never wrong to honor my heritage and answer them when they called me," he said.
Terre'Blanche, a poet who once released a CD of verse, switched to English to regale a press conference with Wordsworth's poem I Wandered Lonely As a Cloud. Reminiscing about his primary school English teacher, he said: "You may think I don't talk English, but English is the most powerful language in the entire world."
fiasco
As apartheid gave way to multiracial elections in 1994, AWB members planted bombs that killed and wounded dozens, but their campaign for an independent white homeland collapsed in ignominy, and the fear inspired by the movement turned to ridicule. A sex scandal further diminished Terre'Blanche's credibility even before he was jailed for assaulting a petrol attendant and attempting to murder a farm worker.
At one point yesterday his horse reared up, but he avoided a repeat of his infamous tumble from the saddle which came to symbolize the AWB's decline.
The rally verged on a fiasco. The brass band consisted of two buglers and the turnout of supporters, dressed in khaki, camouflage and black, was disappointing.
Instead of the 10,000 he once drew, there were closer to 30, bolstered by dozens of journalists.
But in front of the microphone it was vintage Terre'Blanche, orating fluently without notes in a 30-minute speech peppered with references to the volk, Jesus and the Old Testament. He was a master of acoustics: his voice would swell, then suddenly stop, flooding the hall with silence. "Thank you for being a wonderful audience," he said, without apparent irony.
Comments will be moderated. Keep comments relevant to the article. Remarks containing abusive and obscene language, personal attacks of any kind or promotion will be removed and the user banned. Final decision will be at the discretion of the Taipei Times.