Pamphlet bombs explode in Ecuador
LOUD MESSAGE The seven bombs exploded in three cities to protest a regional meeting of foreign ministers, while Indians blocked a major highway in two places
Small pamphlet bombs exploded in three cities, and Ecuador's powerful Indian movement blocked a major highway on Monday to demand the resignation of President Lucio Gutierrez as foreign ministers from 34 countries gathered for a regional meeting.
Three bombs exploded in Quito; one in Guayaquil, Ecuador's largest city; and three in Cuenca in southern Ecuador. No one was reported hurt.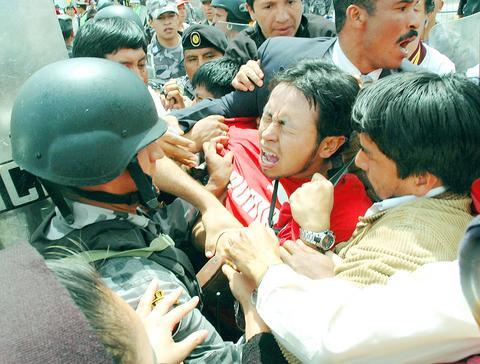 Ecuadoran students and Indian groups push up against riot police on Monday as they protest outside the hotel where the Organization of American States is holding their General Assembly in Quito.
PHOTO: REUTERS
The pamphlets in the bombs attacked the Organization of American States General (OAS) Assembly meeting that opened on Monday, the government's economic poli-cies, and the "expansion of imperialism," police said.
The pamphlets carried the name of the so-called Group of People's Combatants, or GCP by its initials in Spanish, which is one of the obscure local groups that sporadically paint walls with subversive slogans and set off small pamphlet bombs in the country.
Gutierrez, Ecuador's unpopular president, is hosting OAS foreign ministers, including US Secretary of State Colin Powell, in a two-day meeting, in which they will discuss regional problems.
Indian leaders promised to escalate their protests during the meeting to demand the resignation of Gutierrez, who is in a bitter feud with the indigenous movement. The protesters also want the OAS ministers to deal with poverty and corruption in the region.
Dozens of Indians playing cat-and-mouse with police troopers managed to block the Pan American Highway, which crosses the country from north to south, in two places north of Quito.
As soon as police cleared the highway and moved away, Indians returned to pile basketball-sized rocks on it, blocking traffic, according to radio news reports.
Leonidas Iza, the leader of the Confederation of Indigenous Nationalities of Ecuador, or CONAIE, said he wanted the OAS delegates to "see there is hunger, there is deep poverty, there is corruption" in Ecuador. Indians make up about 4 million of Ecuador's 13 million people, and Iza said his movement represents 85 percent of them.
Gutierrez, 47, would not have won election in a November 2002 runoff without the support of the Indian movement. His popularity has plunged in recent months and his former Indian allies are determined to force him from office with massive street protests.
Comments will be moderated. Keep comments relevant to the article. Remarks containing abusive and obscene language, personal attacks of any kind or promotion will be removed and the user banned. Final decision will be at the discretion of the Taipei Times.