Arabs attack Africans in Sudan: report
REIGN OF TERROR The Arab-led Sudanese government is being accused of joining Arab militias in attacks on black Africans, clearing villages and executing `enemies'
Human Rights Watch on Friday issued a stinging report accusing the Arab-led Sudanese government of joining Arab militias in attacks on black Africans in the Darfur region of western Sudan, clearing villages, destroying their food supplies and executing men deemed enemies. It came on a day that the UN's top human rights body passed a resolution on human rights abuses in Darfur that the US rejected as too soft on Sudan.
In an unusually strong report, based on interviews with Sudanese refugees across the border in Chad, a four-member team of investigators described the raids by the Arab militias, or janjaweed, as "a reign of terror." The report, released to the press earlier this week, documents rapes and killings of civilians, forced displacement of black Africans from their villages and aerial bombings by Sudanese military planes.
"Attacks carried out by the armed forces of Sudan and the janjaweed reflect a disturbing pattern of disregard for basic principles of human rights and humanitarian law," the report read. It went on to say that the human rights violations reported in Darfur "may constitute war crimes and/or crimes against humanity."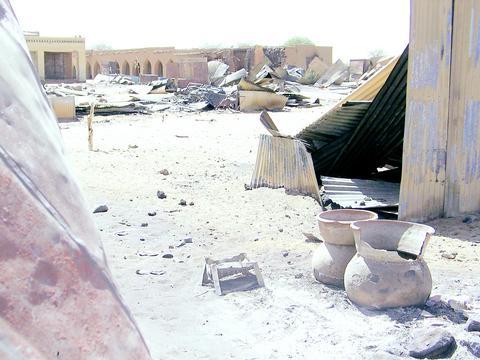 This photograph, taken on April 16, shows the devastated village of Abu Sheik in Sudan's Darfur region after a raid.
PHOTO: AFP
In some places, government planes bombed villages ahead of the militias' attacks and circled overhead afterward to see if the area had been cleared, according to Human Rights Watch. Elsewhere, the military and the militias set up a joint presence, "often in the local police station," before launching an attack on a village, the group said in a statement accompanying the report.
One of the researchers, Julie Flint, who spent 25 days this month inside Darfur, said in a telephone interview from London on Friday that in a roughly 66km2 area she saw 11 of 13 villages burned, with the other two deserted. Homes and food storage areas were burned, she said. All that was left were bits of peanuts and shards of glass -- remnants of tea glasses.
One villager, she said, brought her a list of 62 mosques that had been burned. She said she collected reports of massacres during prayer time at mosques. In two sweeps in March, she reported, Sudanese soldiers detained 136 African men whom the militias massacred hours later. "They are no longer working alone," Flint said of the militias.
According to UN estimates, the attacks have displaced 900,000 people inside Darfur and roughly another 100,000 refugees who have fled across the frontier, to Chad. Low-level clashes over land between Arabs, who are herders, and black Africans, who are farmers, broke out in a full-scale war in February last year, when a rebel movement emerged.
Meanwhile, aid workers, so far restricted in their movements inside Darfur, are scrambling to ferry food, tarpaulins and other relief supplies to displaced peasants camped out across the vast, largely arid territory. Seasonal rains are likely to come in less than two months, making roads impassable. The government in Khartoum said earlier this week that it would allow a UN humanitarian assessment team to travel through the area.
Meanwhile, in Geneva, the UN's top human rights body stopped short of condemning the Khartoum government for "ethnic cleansing," choosing instead milder language to express its concern about "the scale of reported human rights abuses and the humanitarian situation in Darfur" and appointing a monitor to investigate the charges.
Fifty members of the UN Human Rights Commission backed the resolution, drafted by EU countries. Washington rejected it, calling for stronger language, and there were two abstentions. The African Union also on Friday said it would dispatch ceasefire monitors to Darfur, and peace talks between the Sudanese government and two guerrilla groups resumed in Chad.
After the vote in Geneva, Richard Williamson, head of the US delegation, called for an emergency session to review their decision after UN investigators return from a trip to Darfur. The team is in Sudan now.
Sudan's allies on the UN team this week lashed out at UN officials, calling for an investigation into the leaks. Sudan has consistently denied responsibility for the actions of the janjaweed.
The UN, which has so far received pledges of US$30 million, is calling on donor countries to provide another US$130 million in emergency aid. UN officials have lately stepped up their criticism of the government in Darfur, as have those within the Bush administration.
In a report prepared for the UN commission meeting in Geneva, the Bush administration lashed out at Khartoum for barring aid groups and human rights investigators from the hardest-hit areas of Darfur. "The government of Sudan is denying assistance from reaching its own people," the report declared. "It is time that the international community stand united and denounce the violence and ethnic cleansing taking place in Sudan."
Comments will be moderated. Keep comments relevant to the article. Remarks containing abusive and obscene language, personal attacks of any kind or promotion will be removed and the user banned. Final decision will be at the discretion of the Taipei Times.