Israeli soldiers kill two Palestinian frogmen
VENGEANCE The two ill-fated militants in diving gear attacked a military post in the Gaza Strip in the latest attempt to avenge the assassination of Hamas' spiritual leader
Israeli soldiers killed two armed Palestinians dressed in diving uniforms who attempted to infiltrate a Gaza Strip settlement from the coast, the army said yesterday, the latest in a series of failed attempts to avenge Israel's assassination of the Hamas spiritual leader.
Initially, the army said three Palestinians had been killed. After searching the area in daylight, a spokesman downgraded the death toll, saying only two bodies were found near the Tel Katif settlement.
The two militants -- who opened fire on an army outpost guarding the settlement shortly before midnight Thursday -- were wearing diving uniforms, and flippers were found thrown on the coast, the army said. The men were armed with assault rifles and rocket-propelled grenades, the army said.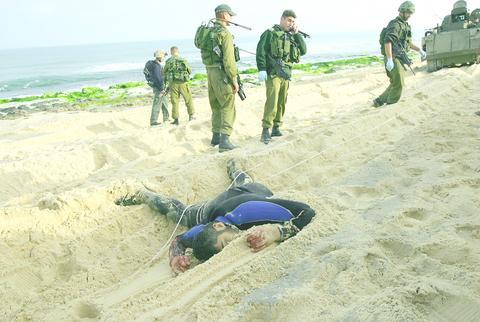 Israeli soldiers look at one of two Palestinian militants killed on a beach near the Gush Katif settlements bloc in the Gaza Strip yesterday.
PHOTO: AFP
In August 2002, militants also attempted to infiltrate from the sea the Dugit settlement in the coastal strip. The militants were killed before they reached shore.
Tensions -- especially in the Gaza Strip -- have increased significantly since Israel assassinated Hamas spiritual leader Ahmed Yassin on Monday. The Islamic group has vowed bloody revenge, saying even Prime Minister Ariel Sharon is a target.
The Hamas military wing issued a rare videotaped statement on Thursday, threatening retaliation against Israelis in graphic terms.
The statement pledged "a strong, earthshaking response to make the sons of monkeys and pigs taste a painful death."
In the videotape, given to the Dubai-based Al-Arabiya TV channel, a masked man declared, "We say to the pig Sharon that we will pound your fortresses and make you curse yourself 1,000 times for merely thinking of assassinating our leaders and symbols."
However, some Palestinians are questioning whether violent resistance has done them more harm than good. Their economy has been decimated. Israeli checkpoints, closures and other restrictions, which Israel says are necessary to stop attackers, have made their lives miserable.
Since violence erupted in September 2000, 2,762 people have been killed on the Palestinian side and 942 on the Israeli side. But Palestinians are hard pressed to show any accomplishments from the more than three years of bloody fighting.
On Thursday, a group of respected Palestinians put a half-page advertisement in the PLO's Al-Ayyam newspaper calling on Palestinians to lay down their arms and turn to peaceful means of protest toward ending Israel's occupation of the West Bank and Gaza Strip.
The intellectuals who signed the ad -- including peace advocate Sari Nusseibeh, lawmaker Hanan Ashrawi and Abbas Zaki, a leading member of Yasser Arafat's Fatah movement -- said revenge attacks over Yassin's assassination would lead to strong Israeli retaliation and further hurt the Palestinian cause.
The group called on the public to "rise again in a peaceful, wise intefadeh [uprising]."
Some Palestinians doubted that the ad would be greeted with a similar call for restraint by Israelis, noting that Israel has announced plans to kill all Hamas leaders.
"We had many previous experiences with the Israelis," said Ahmed Radi, 32.
"There was a truce with Israel, but Israel has not stopped its aggression," he said.
Stepped up security measures paid off for the Israelis. On Wednesday, soldiers stopped a 16-year-old Palestinian youth with a suicide bomb vest strapped to his body at a crowded West Bank checkpoint, setting off a tense encounter with soldiers.
Pictures of the boy, Hussam Abdo, appeared on the front pages of all major Israeli newspapers on Thursday.
The family of the teenager said he was gullible and easily manipulated, and relatives demanded that militants stop using children for attacks.
"It is forbidden to send him to fight. He is young, he is small, he should be in school. Someone pressured him, maybe because they killed Ahmed Yassin," wailed Abdo's mother, Tamam.
Comments will be moderated. Keep comments relevant to the article. Remarks containing abusive and obscene language, personal attacks of any kind or promotion will be removed and the user banned. Final decision will be at the discretion of the Taipei Times.