Japan says actvists must go to China
DAMAGE CONTROL Japan is trying to keep its fragile ties with Beijing intact by returning seven Chinese actvists it arrested after they managed to land on a disputed island
Japan, seeking to minimize damage to ties with Beijing, will send seven Chinese activists arrested after landing on a small disputed island back to China after questioning them, a Foreign Ministry spokesman said yesterday.
The seven, all men, evaded Japanese Coast Guard vessels to land on the rocky island in the East China Sea on Wednesday, prompting Japan to protest to China through its ambassador in Tokyo and to send 18 police by helicopter to remove them.
In Beijing, about two dozen protesters burned Japanese flags outside Tokyo's embassy in a protest against the arrests.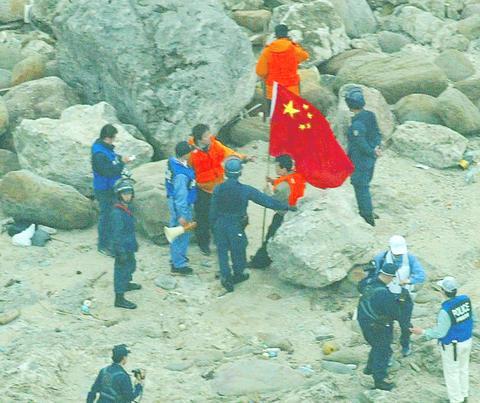 Chinese activists, in orange jackets, are taken into custody by Japanese police officers on Uotsuri island, part of an uninhabited chain in the East China Sea called the Senkakus in Japan and Diaoyutai in China, on Wednesday.
PHOTO: AP
"The Chinese people cannot be insulted," they chanted.
China, Taiwan and Japan all claim sovereignty over the uninhabited island cluster, which provides access to rich fishing grounds and possible oil deposits in the area.
Beijing calls the islands the Diaoyus and Japan refers to them as the Senkakus.
Japanese Foreign Ministry spokesman Hatsuhisa Takashima said the seven would be questioned by police on the southern island of Okinawa before being sent back to China.
"We do not want to play up this incident as an obstacle to the promotion of better relations between China and Japan," Takashima said of the latest row over the islands, which lie between Okinawa and Taiwan.
China has demanded that Japan ensure the safety of the group and has reiterated its claim to the islands.
The seven Chinese were brought to Naha, the capital of Okinawa, early yesterday for questioning by police.
Chief Cabinet Secretary Yasuo Fukuda expressed hope that the incident would not affect relations between Tokyo and Beijing.
"I hope that this issue will not adversely affect the entire Sino-Japanese relations," Fukuda told reporters.
"But it is crystal clear that the Senkaku islands are our country's indigenous territory."
Ties between the two Asian neighbors have already been strained by Japanese Prime Minister Junichiro Koizumi's annual visits to Tokyo's Yasukuni Shrine for war dead, where convicted war criminals are among those honored.
Fukuda said Japan would handle the issue "solemnly" based on domestic and international laws.
"We are investigating whether there is any political intention [behind their landing on the island]," he said.
The Japanese government is trying to dissuade a right-wing Japanese group from making a trip to the island, Takashima said.
"We are aware of it [the planned trip] but we are telling them not to do it," he said.
Japan has formally claimed sovereignty over the islands since 1895 and says Beijing did not stake its claim until the 1970s, when talk emerged of oil resources in the area.
China and Taiwan say their claims go back to ancient times.
Japanese Foreign Minister Yoriko Kawaguchi, who is due to visit China on April 3 to discuss a range of issues, may raise the islands spat during her talks in Beijing.
"The Senkakus is one of the main bilateral issues between the two countries so she might raise the issue to seek China's cooperation to prevent this kind of thing," Takashima said.
Comments will be moderated. Keep comments relevant to the article. Remarks containing abusive and obscene language, personal attacks of any kind or promotion will be removed and the user banned. Final decision will be at the discretion of the Taipei Times.