Violence erupts in Kosovo after two boys drown in river
NATO peacekeepers and UN police regrouped throughout Kosovo yesterday to put down rioting and violence that left eight dead and hundreds injured in one of the bloodiest days since the end of the Kosovo war in 1999.
Melees broke out in every major city in the province as well as several enclaves where Serbs have eked out a sheltered existence since the war ended. Serb homes, churches and cars were set on fire as Albanians rampaged in revenge.
Clashes in the ethnically divided city of Kosovska Mitrovica came after ethnic Albanians blamed Serbs for the drowning of two of their children. The breakdown in order illustrated the failure of UN and NATO efforts to snuff out ethnic hatreds and set the province on the path of reconciliation.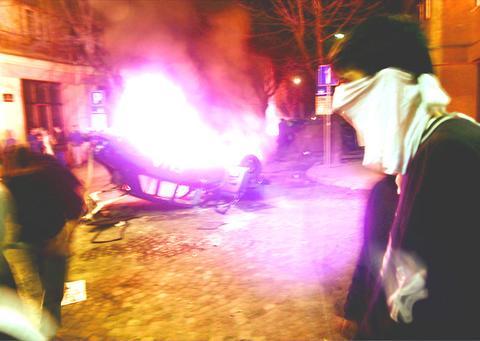 Protesters early yesterday look at a burning police car in Belgrade.
PHOTO: AP
"I urge all ethnic communities in Kosovska Mitrovica and in the rest of Kosovo to avoid further escalation, to act with calm and to refrain from demonstrations and roadblocks," NATO Secretary-General Jaap de Hoop Scheffer said in a statement.
Meanwhile, in Belgrade, the capital of Serbia-Montenegro, demonstrators set the city's 17th century mosque on fire after clashing with police trying to guard the building -- one of the oldest in the city. Demonstrators demanded that the government act to protect their Orthodox Christian kin in Kosovo from attacks by the province's predominantly Muslim ethnic Albanians. Another mosque in the southern city of Nis was also set ablaze.
Mobs roamed the streets of Belgrade into the early morning hours yesterday.
Trouble began amid reports that Serbs in a village near this ethnically divided city set a dog on a group of ethnic Albanian boys, sending three fleeing into an icy river.
After authorities recovered two bodies -- and searched for a third -- ethnic Albanians and Serbs gathered near a key bridge over the Ibar River that divides Kosovska Mitrovica. The two sides traded insults, threw rocks and charged at each other several times before gunfire rang out.
NATO-led peacekeepers and Romanian special police units in riot gear moved in, firing tear gas, rubber bullets and stun grenades to stop ethnic Albanians from surging across the bridge toward the Serb side of the city, where another crowd had gathered.
Comments will be moderated. Keep comments relevant to the article. Remarks containing abusive and obscene language, personal attacks of any kind or promotion will be removed and the user banned. Final decision will be at the discretion of the Taipei Times.