As toxic gas clears, villagers go home
DISASTER IN CHINA The toxic fumes that spewed from a natural gas well, killing 233 people, have dispersed, allowing the survivors to return home
Thousands of evacuees were returning yesterday to villages in China's southwest following the sealing of a burst gas well that spewed toxic fumes and left the area strewn with bodies of adults and children, the government said.
The death toll from the disaster last Tuesday near the city of Chongqing rose by 35 to at least 233, the government said. It didn't say when or how the additional deaths occurred.
Yesterday, some 20,000 people were returning to homes within 5km of the gas field in the town of Gaoqiao, state television reported on its national noon newscast.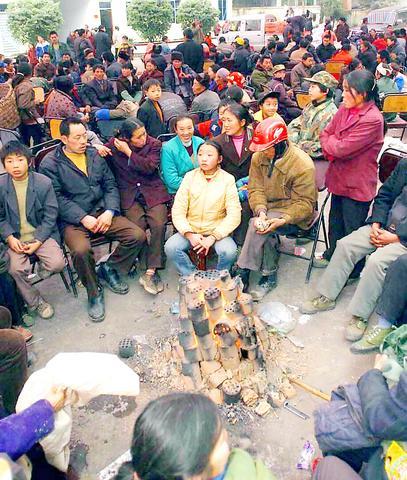 Victims of a gas-well explosion sit around a fire in Kaixian County, some 337km northeast of Chongqing, southwest China, on Sunday.
PHOTO: AP
Thousands more residents returned to outlying areas Sunday, a day after technicians wearing respirators and protective suits dumped tonnes of sealant down the well to plug it. The government says the burst well spewed a toxic mix of natural gas and hydrogen sulfide.
A total of 64,000 people fled the remote, mountainous area after the disaster, according to the government. Many have been sleeping on floors in schools and government buildings in nearby towns.
Emergency crews were searching the remote, mountainous area for survivors and more bodies, and scientists tested the water and plants for poison residue.
Survivors described the gas as an acrid black fog that clung to the ground, choking them and burning their eyes and skin.
"Air and water in most villages are safe now and evacuees can begin returning," said Zhang Shaozhi, the local director of environmental protection, quoted by the official Xinhua News Agency.
However, Xinhua said, "some villages still showed high concentrations of poisonous gas." It said that might delay the return of residents living closest to the gas field.
In five villages near the well, emergency crews who were preparing the area for residents to return found and buried thousands of dead animals, including 2,275 rabbits, 866 pigs, 241 ducks, 476 chickens and 38 dogs, the government said.
It didn't say whether any more bodies of people were found during the weekend.
State media last week gave chilling accounts of emergency crews finding silent villages strewn with the bodies of adults and children, some overcome in fields and roads as they tried to flee.
The government said it has set up five monitoring stations around the gas field to continue checking the air and water.
More than 9,000 people were hospitalized, many of them children, but all but a few have been released, according to the government. Most suffered gas poisoning and chemical burns.
Comments will be moderated. Keep comments relevant to the article. Remarks containing abusive and obscene language, personal attacks of any kind or promotion will be removed and the user banned. Final decision will be at the discretion of the Taipei Times.