Friends, family gather in support of Michael Jackson
Friends and relatives of Michael Jackson descended on his Never-land ranch to show their support for the entertainer, who is fighting child molestation charges. \nThe private gathering behind the gates of the sprawling estate was described as a homecoming for Jackson, who has kept a low profile in Las Vegas and undisclosed locations since surrendering to authorities on Nov. 20 and being released on US$3 million bail. \n"This event is to show Michael that he has the love and support of his friends and family," Jackson's spokesman Stuart Backerman told reporters outside the estate. \nThe gathering -- titled "You Are Not Alone" after a Jackson song -- drew about 600 people, including celebrities such as tennis star Serena Williams, rapper MC Hammer, comedian Eddie Griffin and American Idol host and DJ Ryan Seacrest. \nMore than 450 cars entered the main gate of the estate. Fans ran up to a black Mercedes that carried two people who appeared to be Jackson's parents. \nAbout 20 reporters staked out the gate, along with a dozen fans. One sign pasted on a car read, "Michael is innocent!! Leave him alone!!" \nGuests characterized the mood inside as upbeat. \nMusician Edwin Birdsong said Jackson was subdued as various supporters honored him. \n"He just said `Hi,' and smiled," Birdsong told reporters as he left Neverland. "It was very festive and happy." \nA gospel choir led by Andrae Crouch performed, Birdsong said. Other celebrities included actor Robert Townsend and former baseball star Darryl Strawberry, he said. \nActor David McKnight said friends, family and children whom Jackson has helped over the years took turns giving tributes. He said there was "a lot of food, a lot of eating, and a lot of celebration, camaraderie, holding hands, cheering and praising Michael Jackson." \nGuest Katherine Rogers said Jermaine Jackson performed a song at the gathering and actor Tommy Davidson served as master of ceremonies. She said Michael Jackson looked "relaxed." \nAsked by reporters how Jackson was faring, Backerman said, "He's doing fantastic. He's doing well. He's holding up fine. He's clearly fighting mad regarding the allegations." \nBackerman declined to answer further questions about Jackson's legal troubles. \nAs cars began leaving, passengers in one vehicle threw T-shirts reading "I support Michael Jackson" to fans waiting outside. \nJackson was charged Thursday with seven counts of performing lewd or lascivious acts upon a child under 14 and two counts of administering an intoxicating agent. He maintains his innocence. \nJackson was looking forward to thanking people who have stood by him, said Brian Oxman, a lawyer and Jackson friend who planned to attend Saturday's gathering. \n"It's for family and friends to say thank you from Michael to people he loves and who have supported him," Oxman said. "It's not a party. It's not a pep rally. It's not hoopla or celebration." \nJackson soon will travel to England to fulfill unspecified contractual obligations. There have been reports he will be promoting his latest CD, Number Ones, which is doing better in the UK than it is in the US. \nMark Beaumont, a staff writer at music magazine NME, said he doesn't expect a rapturous welcome for Jackson if he goes ahead with his visit to England. \n"There will always be the hardcore fans but that is a relatively small group now and people are becoming more suspicious," Beaumont said.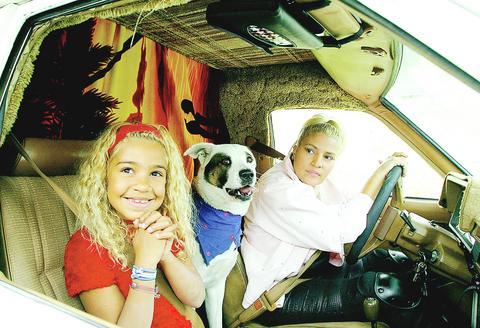 Nalani Kelley, 6, left, and her mother, Heidi, of Malibu Beach, California, wait in their car before going into Michael Jackson's Neverland ranch on Saturday.
PHOTO: AP
Comments will be moderated. Keep comments relevant to the article. Remarks containing abusive and obscene language, personal attacks of any kind or promotion will be removed and the user banned. Final decision will be at the discretion of the Taipei Times.