Blaine sobs as he ends 44-day fast
FILTHY CROWD-PULLER The grimy, visibly thinner stuntman was taken to hospital after his ordeal so that he could be slowly reintroduced to food
US illusionist David Blaine staggered sobbing from a Perspex box in London on Sunday to end a 44-day starvation stunt that has attracted admirers and egg-pelting detractors to the banks of the River Thames.
Visibly thinner, filthy and un-shaven, Blaine broke down as thousands of screaming people jostled to see the 30-year-old New Yorker whose endurance feat earned him adulation and ridicule.
"I learnt how strong we all are as human beings," Blaine said, pausing for breath and leaning on aides for support. "I have learned to appreciate the simple things in life such as the smile from a loved one or a stranger, the sunshine and sunset."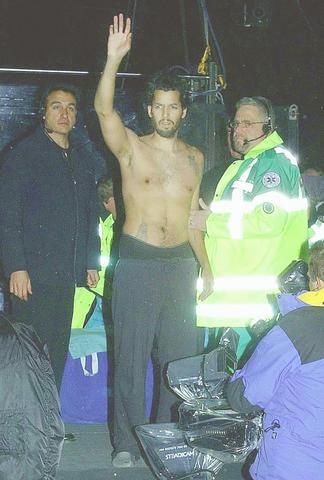 American illusionist David Blaine waves to the crowd after he emerged from his perspex box on Sunday. The self-styled modern day Houdini was lowered to the ground by the crane which has been holding him above the Thames since Sept. 5.
PHOTO: AFP
Blaine, who says he consumed only water via a tube, was given a check-up by medical teams before being taken in an ambulance to hospital where he will be reintroduced to food, a process doctors say is potentially life-threatening.
Blaine had become one of London's prime tourist attractions since his box was hoisted into the air by a crane next to the landmark Tower Bridge. An estimated quarter of a million people visited the site since Sept. 5.
But his exit on Sunday proved the biggest crowd puller as people from all over the world braved cool winds to cram the bridge and riverside walkways. Some watched from boats.
Some onlookers were incredulous.
"Possibly there is more than one David Blaine," said Kostya Butler, 20. But he added: "Either he has done this for real so he is an amazing human being, or he has faked it, in which case he is a brilliant illusionist."
The stunt divided Britain into Blaine admirers and Blaine baiters, sparked a national debate about the merits of the feat and even provoked discussions about the British psyche given the malicious antics of some in the anti-Blaine camp.
Blaine has been verbally abused, taunted with sizzling hamburgers, pelted with golf balls and rotten eggs and kept awake with drums and foghorns. Someone even tried to cut off his water supply.
Some critics have said his fast insults the world's hungry and the memory of hunger strikers who have died. Others mock him for what they see as a pointless, publicity grabbing stunt.
But Blaine won a huge female fan club. Women have bared their breasts and one woman even ran naked under his box.
From his box, Blaine would wave or smile, or write in his diary, which is expected to land him a windfall if he decides to publish it.
Blaine made a name for himself as a stuntman after being buried alive in a glass coffin and encasing himself in a giant block of ice. He called the latest stunt his hardest and "also the most beautiful."
He has complained of black-outs, excruciating back pain, tasting sulphur and burping a lot.
Blaine has also shown signs of delusion, dreaming of worms in his stomach and describing feelings of claustrophobia where the Perspex walls "feel like they're crushing my skull apart."
Comments will be moderated. Keep comments relevant to the article. Remarks containing abusive and obscene language, personal attacks of any kind or promotion will be removed and the user banned. Final decision will be at the discretion of the Taipei Times.