Rights advocate urges more action to help Xinjiang
Visiting Uighur-American rights advocate Rushan Abbas yesterday called for a stronger international response to "contraventions of human rights in Xinjiang," ahead of the anniversary of a deadly fire in the provincial capital, Urumqi.
At a news conference in Taipei, Abbas said that the Chinese government had underreported the death toll from the fire on Nov. 24 last year and that the figure was actually in the "triple digits."
While China has said that 10 people, all ethnic Uighurs, died in the fire, this has been disputed by overseas rights advocates citing information from social media.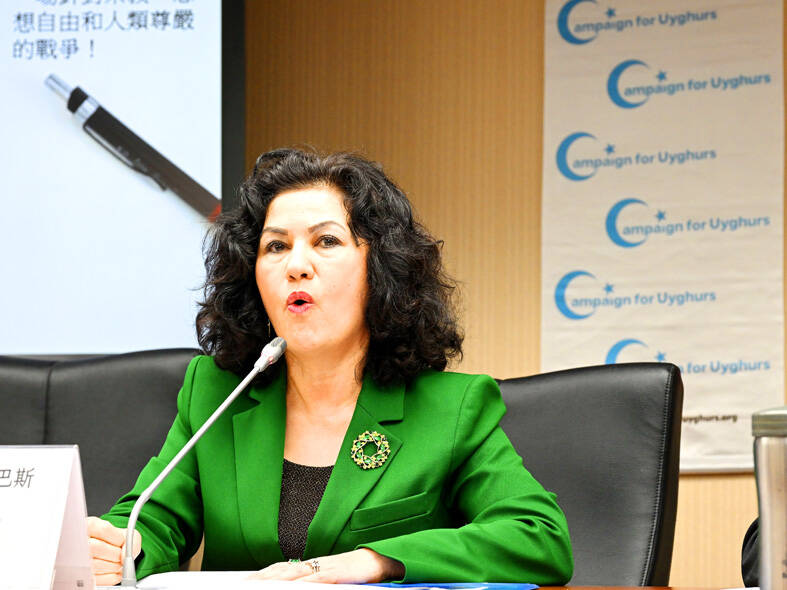 Uighur-American rights advocate Rushan Abbas speaks at an event in Taipei on Feb 21.
Photo: Lo Pei-de, Taipei Times
Abbas has been touring Taiwan since Friday last week to screen In Search of My Sister, which documents her efforts to find and free her sister, Gulshan Abbas, a retired doctor, who disappeared in September 2018.
In 2020, Rushan Abbas said that the Chinese government had sentenced her sister to 20 years in prison on terrorism charges.
Her sister's imprisonment was likely in retaliation for her work leading Campaign for Uyghurs, which Beijing considers a terrorist group, Rushan Abbas said.
"It also has been more than a year since the publication of the UN High Commissioner for Human Rights' report on East Turkestan [Xinjiang], which confirmed and documented the Chinese Communist Party's atrocities against Uighurs," she said.
Human rights contraventions documented by the UN include forced abortions, children being taken away from their parents, mass detentions, torture and forced labor, she said.
The international response to "continued Chinese human rights abuses in Xinjiang" had been "fragmented," she said adding that not enough had been done to ensure the "prevention of genocide."
She called for more to be done to keep Xinjiang on the international agenda, as human rights abuses in the region have been "pushed to the side" by the Ukraine war and the Israel-Gaza conflict.
Taiwan's government should expand scholarships and employment opportunities for exiled Uighurs, many of whom speak Mandarin, she added.
"Give them an opportunity to study or work opportunities, so Taiwan can help with that and these people can [in turn] help Taiwan," Rushan Abbas said.
Taiwan should also impose sanctions on Chinese companies "who are complicit with Uighur genocide," she said.
Comments will be moderated. Keep comments relevant to the article. Remarks containing abusive and obscene language, personal attacks of any kind or promotion will be removed and the user banned. Final decision will be at the discretion of the Taipei Times.