Military contradicts coast guard on Itu Aba transit
Minister of National Defense Chiu Kuo-cheng (邱國正) on Monday said that US and Chinese naval ships had sailed within 12 nautical miles (22.22km) of Itu Aba Island (Taiping Island, 太平島), contradicting earlier statements by the coast guard.
Media have reported that the vessels on Nov. 3 passed near Itu Aba, the largest of the South China Sea Spratly Islands.
Ocean Affairs Council Minister Kuan Bi-ling (管碧玲) in a Facebook post on Nov. 6 said that no foreign vessels had encroached on the island's territorial waters.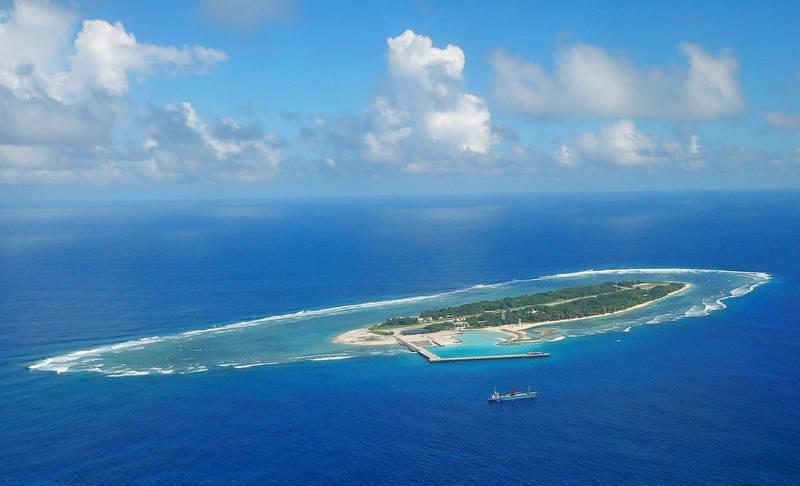 Itu Aba Island is pictured in an undated photograph.
Photo: Reuters
A week later, Jia Chih-kuo (賈治國), deputy head of the Coast Guard Administration's patrol, reiterated the denial at a news conference held by Chinese Nationalist Party (KMT) Legislator Charles Chen (陳以信) accusing the coast guard of lying about the intrusions.
During a session of the legislature's Foreign and National Defense Committee on Monday, Chen asked Chiu whether the military had detected the vessels, adding that foreign media had satellite evidence of the transit.
Chiu confirmed that the military had detected the vessels on both radar and satellite.
Lieutenant General Liu Pei-chih (劉沛智), deputy chief of the General Staff for personnel, said that the US and Chinese vessels were sailing near each other, adding that "we really do have a handle on it."
Chen again accused the coast guard of lying, saying that officials assured him that the vessels had only sailed within 13 nautical miles, not within the 12-nautical-mile boundary.
The military cannot make any concessions on national sovereignty, as failing to protest could enable other claimants to cite the legal principle of estoppel in preventing Taiwan from acting against what it did before, he said.
"Protecting sovereignty is our responsibility," Chiu said. "Radar did indeed detect [the vessels], contrary to the coast guard."
Comments will be moderated. Keep comments relevant to the article. Remarks containing abusive and obscene language, personal attacks of any kind or promotion will be removed and the user banned. Final decision will be at the discretion of the Taipei Times.