Free divers need to show proof of skills, agency says
People who want to go free diving in national scenic areas must present proof of their abilities and be accompanied by people who are familiar with the waters, the Tourism Administration said yesterday.
Free diving involves divers holding their breath until resurfacing, instead of using scuba gear.
The administration recently held a meeting to discuss the feasibility of regulating the increasingly popular recreational activity amid safety concerns.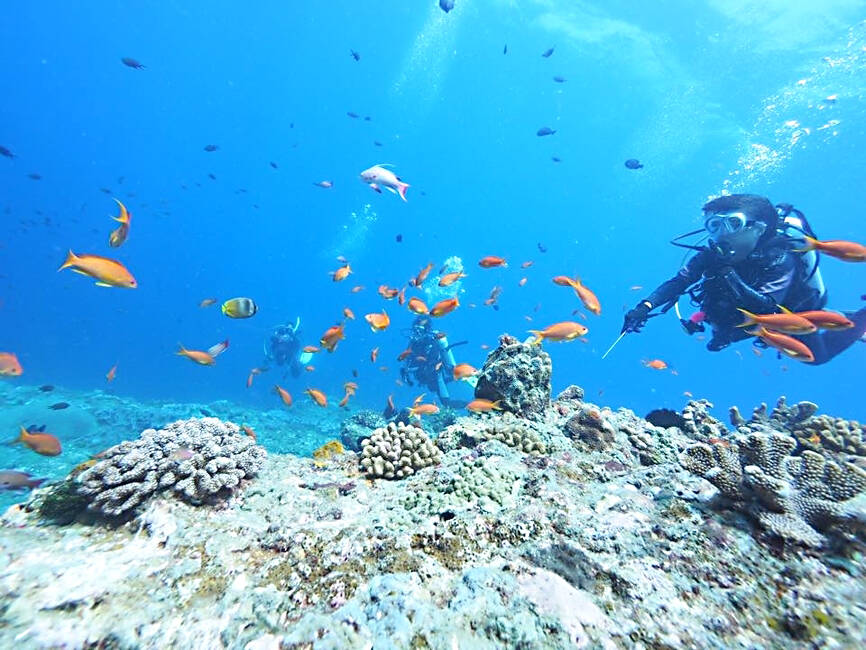 A diver explores waters off Pingtung County's Hengchun Township in an undated photograph.
Photo: Tsai Tsung-hsien, Taipei Times
Free divers visiting national scenic areas would be required show proof of their abilities issued by a domestic and overseas diving association, tourism officials said, adding they would not need any other licenses or certificates.
The Sports Administration would be in charge of establishing a system to certify and verify people's abilities, the officials said.
Free divers would also have to be accompanied by people "who are familiar with waters in the diving area," they said.
Those joining tours organized by free-diving service operators must be accompanied by certified coaches, who can accompany groups of no more than six at a time, the officials said.
Taiwan Freediving Development Association spokesperson Wu Ping-yu (吳秉宥) said the Tourism Administration and the association are generally in sync in terms of regulating the activity.
The association hopes together they can find ways to engage in meaningful oversight, Wu added.
Those who participated in the Tourism Administration meeting failed to agree on the definition of "people familiar with waters in the diving area," a source familiar with the matter said, adding that it would be a major step backward for the government's "Salute to the Seas" policy if people could only go free diving through tours organized by free-diving service operators.
Some meeting participants said that the government should list the responsibilities of free divers' companions, as free divers should all be capable of rescuing one another in an emergency situation, the source said.
However, tourism officials said the requirement would put pressure on companions, and it might be difficult for the government to track whether companions have fulfilled their responsibilities.
Regulations for free diving are to be finalized and announced befor next year, the officials said.
Comments will be moderated. Keep comments relevant to the article. Remarks containing abusive and obscene language, personal attacks of any kind or promotion will be removed and the user banned. Final decision will be at the discretion of the Taipei Times.