Morris Chang, Biden adviser meet
HIGH-PROFILE: The chipmaker founder met with high-level US officials, including US Vice President Kamala Harris, and discussed strengthening US-Taiwan cooperation
Taiwan Semiconductor Manufacturing Co (TSMC) founder Morris Chang (張忠謀), who is representing Taiwan at the APEC summit in San Francisco, on Thursday met with White House National Economic Council Director Lael Brainard to discuss economic ties between Taipei and Washington.
Chang met with Brainard on the sidelines of the summit and discussed a range of economic topics, the Taiwanese delegation to the APEC Economic Leaders' Meeting said.
Brainard, who previously served as vice chair of the US Federal Reserve, is responsible for supervising the implementation of infrastructure projects and the Creating Helpful Incentives to Produce Semiconductors and Science Act (CHIPS).
Taiwan Semiconductor Manufacturing Co founder Morris Chang, right, speaks with US Secretary of State Antony Blinken during the APEC summit in San Francisco on Thursday.
Photo courtesy of the Taiwanese delegation to APEC
Included in the CHIPS Act are US$39 billion in subsidies to companies to build new facilities and expand operations in the US, including for TSMC, which is building two advanced wafer fabs in Arizona.
Chang and Brainard met for about 40 minutes. Other Taiwanese officials in the meeting were Representative to the US Hsiao Bi-khim (蕭美琴), National Security Council Deputy Secretary-General Hsu Szu-chien (徐斯儉), Minister Without Portfolio John Deng (鄧振中) and Minister of Finance Chuang Tsui-yun (莊翠雲).
On Wednesday, Chang spoke with US Secretary of State Antony Blinken at an APEC reception, the delegation said.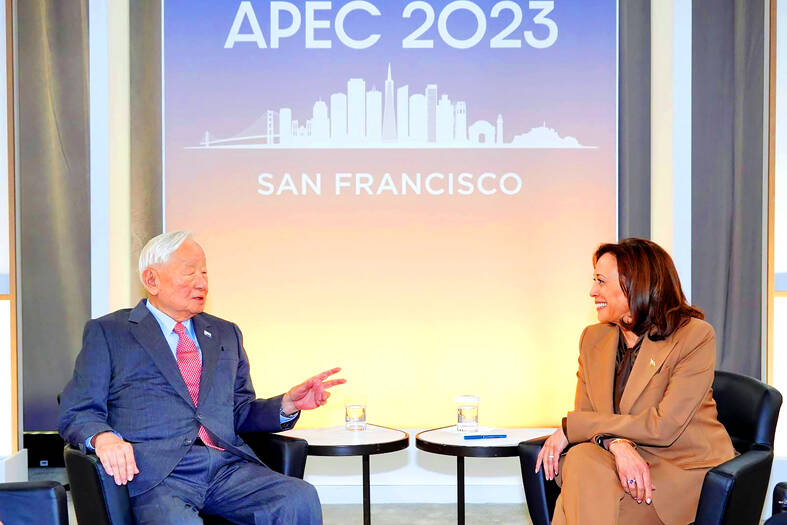 Taiwan Semiconductor Manufacturing Co founder Morris Chang, left, speaks with US Vice President Kamala Harris during the APEC summit in San Francisco on Thursday.
Photo courtesy of the Taiwanese delegation to APEC
Chang was yesterday scheduled to meet with Singaporean Prime Minister Lee Hsien Loong (李顯龍), said his wife, TSMC Charity Foundation chairperson Sophie Chang (張淑芬).
Morris Chang also spoke with US Vice President Kamala Harris on Thursday for about 20 minutes between meetings, Presidential Office spokesman Alex Huang (黃重諺) said.
They exchanged views on the overall economic environment and how to strengthen economic cooperation between Taiwan and the US in the hopes of contributing to the continued prosperity of the Indo-Pacific region, Huang said.
Earlier this week, Deng said that Taiwan's bilateral talks with other APEC members at the forum were aimed at building up support for Taiwan's participation in the Comprehensive and Progressive Agreement for Trans-Pacific Partnership (CPTPP).
On Tuesday, National Development Council Minister Kung Ming-hsin (龔明鑫) met with US Undersecretary of State for Economic Growth, Energy and the Environment Jose Fernandez on the sidelines of the APEC Ministerial Meeting to discuss Taiwan-US cooperation.
During the event, Fernandez touched on a variety of topics, including the upcoming annual US-Taiwan Economic Prosperity Partnership Dialogue, avoidance of double taxation and the US-Taiwan Initiative on 21st Century Trade, Kung said.
The US undersecretary also expressed hope that the US-Taiwan economic partnership could expand to include third countries — especially on collaboration in the field of 5G network, net zero emissions and healthcare — to demonstrate the benefits of working with Taiwan to the world, he added.
Kung said he told Fernandez that Taiwan has already been working to promote cooperation with third countries, citing medical and health-related cooperation with New Southbound Policy countries.
The two officials also exchanged opinions on the issue of economic coercion, which Fernandez described as being a major concern for G7 nations, Deng said.
Deng and Kung were Taiwan's representatives to the APEC Ministerial Meeting.
APEC is an important platform for Taiwan because it allows the country to hold in-person discussions with ministers from other countries, Deng told a news conference on Wednesday, adding that those who have joined the CPTPP are also APEC members.
Taiwan is willing to meet the high standards set by the CPTPP, which requires that members ensure their domestic economic policies are in line with the decrees of the trade pact, Deng said.
Discussing the Ministerial Meeting, Kung said they shared Taiwan's experience in digital transformation and deploying artificial intelligence (AI) to enhance the quality of medical care.
Taiwan is committed to bridging the digital gap and strengthening digital resilience in light of the increasing influence of AI, Kung said.
Regarding the Indo-Pacific Economic Framework for Prosperity (IPEF) ministerial meeting, which was also held in San Francisco this week, Deng said that Taiwan would continue on its current development path as it seeks to join the initiative.
The Washington-initiated IPEF was launched by Biden on May 23 last year to enhance the US' economic engagement in the region. It was launched with 14 founding member nations, not including Taiwan, but is open to accepting new members.
Taipei has said the decision to exclude Taiwan was regrettable, as the nation is an important economy that plays a crucial role in global supply chains and should therefore be included.
Additional reporting by Hsu Tzu-ling
Comments will be moderated. Keep comments relevant to the article. Remarks containing abusive and obscene language, personal attacks of any kind or promotion will be removed and the user banned. Final decision will be at the discretion of the Taipei Times.