Women's union slams soccer bosses
The Sports Administration failed to supervise the national soccer association (CTFA), which unexpectedly terminated a long-term training program for the women's national team and has not paid players their appearance fees for almost a year, the Taiwan Women's Football Player Association wrote on Facebook on Monday.
Players were training for an East Asian Football Federation championship at the end of this month after their unsuccessful qualifying campaign for next year's Paris Olympics, the union said.
However, the CTFA on Thursday last week told players and coaches that the long-term training plan for the women's team, which began in 2021, had ended on Nov. 3, the post said.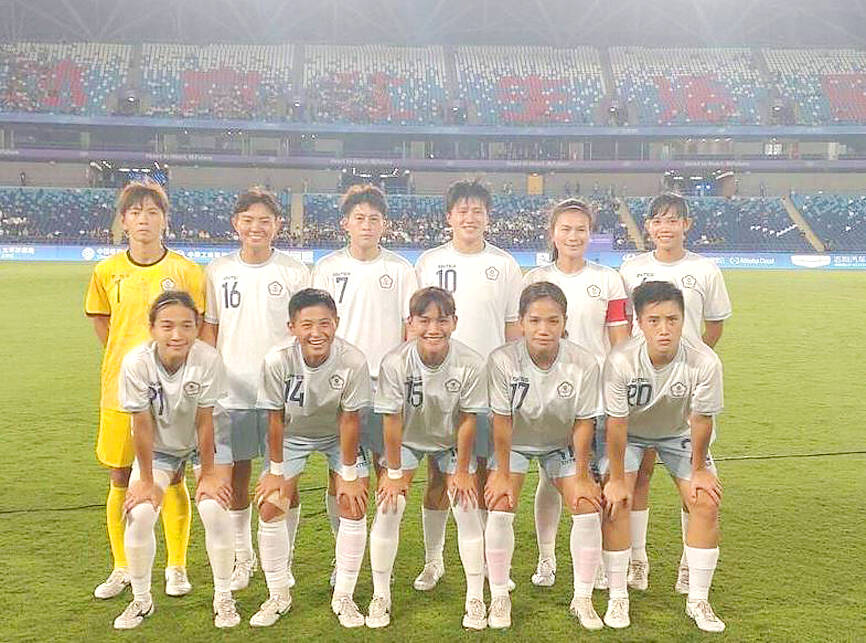 The Taiwan national women's team pose ahead of a game in an undated photograph.
Photo courtesy of coaching staff
Player subsidies were also terminated, it said.
"Because of the CTFA's negligence, we have to suspend our training and we have not received our appearance fees since January," it said.
New Power Party Chairwoman Claire Wang (王婉諭) said that the CTFA has not submitted a training plan to the National Sports Training Center, despite repeated reminders, which led to the training program being ended.
This and other issues makes the CTFA one of Taiwan's worst sports associations, Wang said.
"The CTFA's arrogance and disregard of the women's national team is a result of the Sports Administration's failure to act," she said. "The government agency should use its National Sports Act (國民體育法) powers to oversee the CTFA's operations. Instead, it continues to support it."
The Sports Administration yesterday said in a statement that it continues to support the program, as it enabled the team to play in a qualifying tournament for this year's FIFA Women's World Cup.
CTFA chairman Wang Lin-hsiang (王麟祥) visited the Sports Administration after confirming that the team had not qualified for the Olympics, it said, adding that he had sought assistance from the Sports Administration and the National Sports Training Center to support the team's coach.
Sports Administration Director-General Cheng Shih-chung (鄭世忠) asked the CTFA to invite its teams to discuss plans to prepare for the 2026 Asian Games and the 2027 Women's World Cup.
"However, there seemed to be some misunderstandings during the CTFA's meeting with teams on Thursday last week," the Sports Administration said.
"We are now helping the CTFA quickly submit training plans for the Asian Games and other international championships," it said.
Comments will be moderated. Keep comments relevant to the article. Remarks containing abusive and obscene language, personal attacks of any kind or promotion will be removed and the user banned. Final decision will be at the discretion of the Taipei Times.