Chinese student likely behind bomb threats
A series of bomb threats against the Presidential Office were likely sent by the same Chinese student who has since 2021 made hundreds of similar threats against transportation hubs and public offices in Taiwan, investigators said yesterday.
Premier Chen Chien-jen (陳建仁) said he had asked investigators to act on the case immediately, as "any threat to endanger our society will not be tolerated."
"We are calling for an investigation to identify and track down the perpetrator, to safeguard our national security, and protect our citizens and way of life," he said.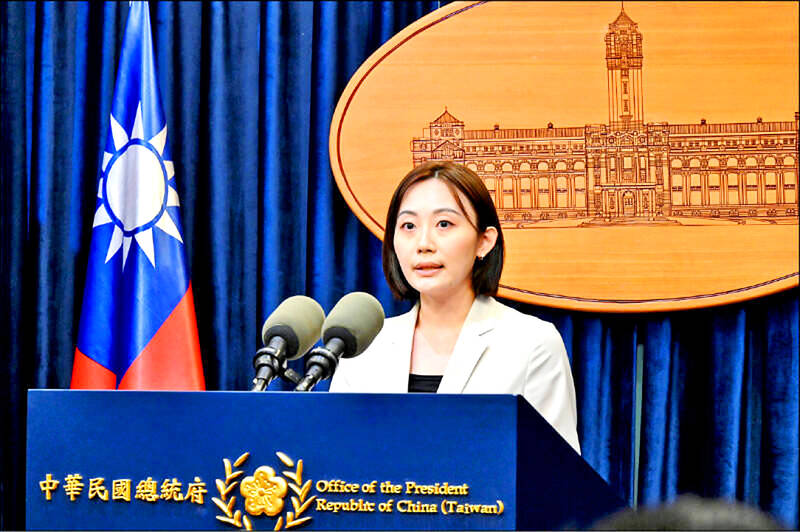 Presidential Office spokesperson Olivia Lin speaks to reporters in Taipei in an undated photograph.
Photo: Chen Yun, Taipei Times
The e-mailed threats said that explosives had been placed at airports, railway stations and government buildings.
Legal experts called them "terrorist tactics," designed to create fear and sow doubt in the government.
Presidential Office spokesperson Olivia Lin (林聿禪) said the office received one such e-mail on Tuesday and two yesterday.
Some of the e-mails attempted to appear as though they had been sent by the "Taoyuan Police Department" or from officials, and were sent to the government's official platform for receiving public feedback.
The matter has been forwarded to the Taichung District Prosecutors' Office for investigation, as the threats appear to be similar to ones believed to have been sent by Zhang Haichuan (張海川), who Taichung investigators have been following for the past few years.
The Criminal Investigation Bureau in May said that Zhang, who had been enrolled at two universities in Taiwan from 2016 to 2021, had from September 2021 to May this year sent 235 threats against public transportation systems.
Prosecutors and police said that the latest threats were likely from Zhang, as they appeared to match his writing style and the type of threats made in the previous e-mails.
Two of the threats made this week used the e-mail address of Lin Yu-hong (林裕紘), who writes about agriculture issues online as Linbay Haoyou (Linbay, 好油).
Lin Yu-hong last week said that he had received threats against his family on Facebook after criticizing the government's policies on egg imports.
The Criminal Investigation Bureau on Monday said the threats against him had originated in Mexico, using a Facebook account set up with a phone number from El Salvador.
Prosecutors said that it is difficult to investigate such cases, as people who make threats online typically mask their identities and location using virtual private networks (VPNs).
"Each country has very different laws regulating VPN service providers. Most do not require the operators to keep records of their users, nor the IP addresses identifying their users," a prosecutor said, adding that perpetrators also often register for VPN services using fake identities.
Zhang, a native of China's Zhejiang Province, had been enrolled at Taichung's Providence University and National Taiwan University of Technology in Taipei, before returning to China in July 2021 after authorities in Taichung had questioned him over allegations that he had intimidated a student who had rejected his romantic advances.
Comments will be moderated. Keep comments relevant to the article. Remarks containing abusive and obscene language, personal attacks of any kind or promotion will be removed and the user banned. Final decision will be at the discretion of the Taipei Times.