Court forfeits bond as tycoon allegedly violates bail
FLED TAIWAN? The Taipei Police Department said a station chief had been demoted for late reporting of a bail violation and an investigation would be conducted
The High Court ordered a NT$400 million (US$12.45 million) bond to be forfeited on Friday after a Taiwanese tycoon charged with stock manipulation, insider trading and embezzlement allegedly skipped bail.
Chu Guo-rong (朱國榮), president of the Global Funeral Service Corp (國寶服務), violated the terms of his house arrest and mandatory daily visit to a local police station, the court said on Friday in a press release.
Chu is accused of manipulating the stock value of construction company Long Bon International Co using the finances of Global Funeral Service Corp.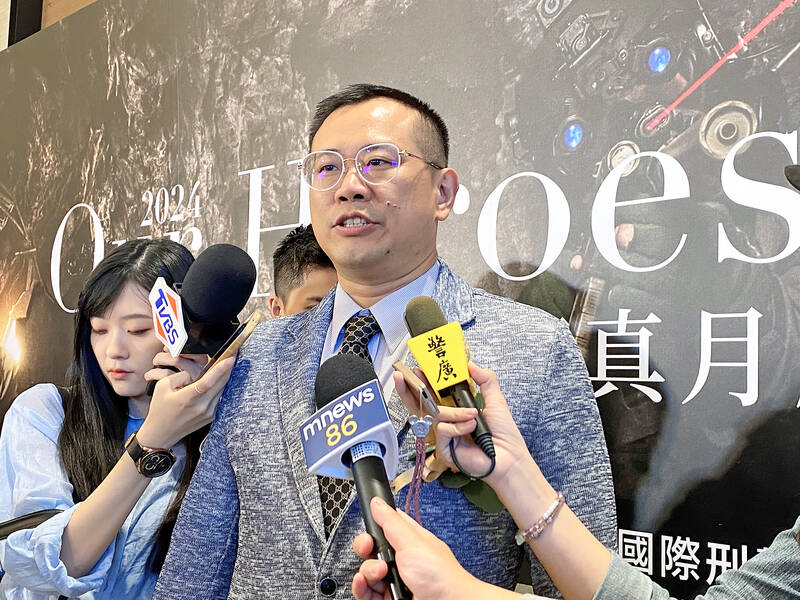 Lee Yang-chi, center, head of the Criminal Investigation Bureau's International Criminal Affairs Division, speaks to reporters in Taipei on Tuesday about Global Funeral Service Corp president Chu Guo-rong skipping bail.
Photo: CNA
He is also accused of insider trading during CTBC Financial Holding Co's acquisition of Taiwan Life Insurance Co in 2015.
The court found Chu guilty in both cases, sentencing him to eight and 16 years in prison, respectively.
As Chu appealed the verdicts, the cases are currently being handled by the Supreme Court.
With Chu's bail set at NT$100 million and NT$400 million during his trials, the businessman was under house arrest instead of being incarcerated.
Chu's sister Chu Pei-yu (朱佩瑜) was the guarantor of the NT$400 million bond.
The businessman also received an eight-month extension on his ban on leaving the country starting from May 1.
As part of his house arrest, Chu Guo-rong was required to report in person to Sanzhangli Police Station in Taipei's Xinyi District (信義) every day before 7pm, the station said.
However, it was not until Tuesday last week that the station reported Chu had not visited the station since 3pm on Sept. 7.
The Supreme Court on Thursday last week issued notices to Chu Guo-rong, his attorney and Chu Pei-yu to appear in court on that day.
With a no-show, a delayed hearing was held on Thursday, and the Supreme Court officially issued a warrant for Chu Guo-rong's arrest.
The Supreme Court on Friday granted a High Court tribunal request for the tycoon's NT$400 bond to be forfeited.
Chu Guo-rong's whereabouts are unknown, but local press reported that he had fled the country.
In related news, the Taipei Police Department said that it is holding the chief of Sanzhangli Police Station accountable for the delayed reporting of Chu Guo-rong's bail violation.
The chief of the station, surnamed Chen (陳), has been demoted to a non-managerial position in the city's Datong Precinct.
Taipei Police Commissioner Chang Jung-hsin (張榮興) said that an investigation would be conducted to determine whether law enforcement personnel aided Chu Guo-rong in his efforts to flee Taiwan.
Comments will be moderated. Keep comments relevant to the article. Remarks containing abusive and obscene language, personal attacks of any kind or promotion will be removed and the user banned. Final decision will be at the discretion of the Taipei Times.