Saint Lucia, Tuvalu voice support for Taiwan at UN debate
The leaders of Saint Lucia and Tuvalu, two of the 13 countries that formally recognize the Republic of China (ROC), voiced their support Friday for Taiwan's inclusion in the United Nations and its participation in international organizations.
In an address during the General Debate of this year's General Assembly, Saint Lucia Prime Minister Philip Joseph Pierre said the people of the ROC on Taiwan should be allowed to continue their right to self-determination and exercise "their democratic freedoms without threats to the autonomy and with a place in the international forum."
Prime Minister Kausea Natano of Tuvalu, meanwhile, called for the UN to ensure the participation of everyone worldwide, including the people of Taiwan.
Saint Lucia's Prime Minister Philip Joseph Pierre addresses the 78th Session of the UN General Assembly in New York City on Friday.
Photo: Reuters
"We must make the necessary arrangement for Taiwan to meaningfully participate in relevant UN specialized agencies and mechanisms," Natano said.
Such an arrangement was necessary, he said, because "Taiwan is widely known for being an able, trustworthy and willing partner greatly contributing to collective efforts that address pressing global issues under the purview of these UN agencies."
Ariel Henry, prime minister of Haiti, another of Taiwan's formal diplomatic allies, focused on the continuing unrest in his country in his address to the world governing body Friday and did not touch on Taiwan again this year.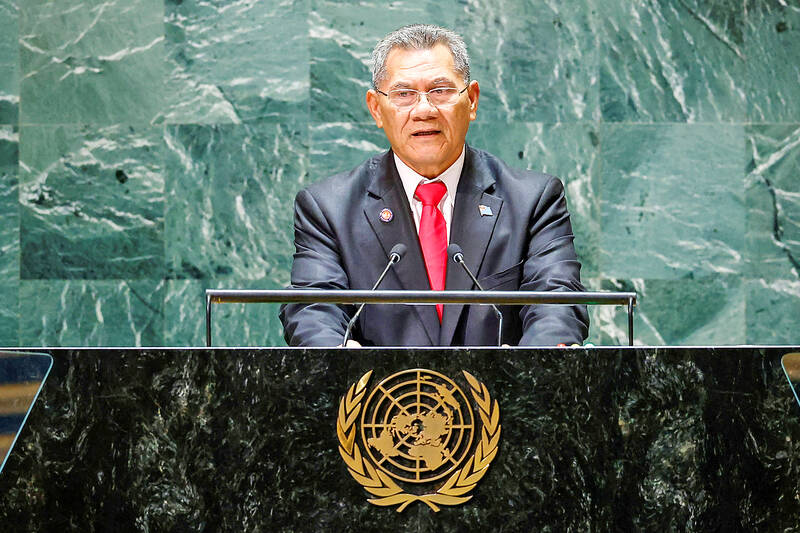 Tuvalu's Prime Minister Kausea Natano addresses the 78th Session of the U.N. General Assembly in New York City on Friday.
Photo: Reuters
He appealed for international support to combat rampant gang violence -- one element of the multi-dimensional crisis currently affecting the Caribbean nation.
Since the General Debate began on Sept. 19, eight of Taiwan's diplomatic allies -- Guatemala, Paraguay, Palau, Eswatini, the Marshall Islands, Nauru, Saint Lucia, and Tuvalu -- have voiced their support for Taiwan.
According to the event's agenda, representatives of three other formal allies -- Saint Vincent and the Grenadines, Saint Kitts and Nevis, and Belize -- were to deliver their statements on Saturday.
Comments will be moderated. Keep comments relevant to the article. Remarks containing abusive and obscene language, personal attacks of any kind or promotion will be removed and the user banned. Final decision will be at the discretion of the Taipei Times.