Experts urge laws to protect critical infrastructure amid increasing threat
Taiwan's national security has come under increasing threat, and so the establishment of its own statutory laws to protect critical infrastructure and national core technologies is required, legal experts and officials said at a conference on Friday last week.
Participants including prosecutors, judiciary members, and legal experts met at the Critical Infrastructure and National Core Technology Protection conference in Taipei, which was organized by the Supreme Prosecutors' Office and Taiwan Law Society.
They said that Taiwan's national security is under threat, and could be compromised by physical and online attacks, prompting the urgency for a legal framework with its own set of statutory laws to be established.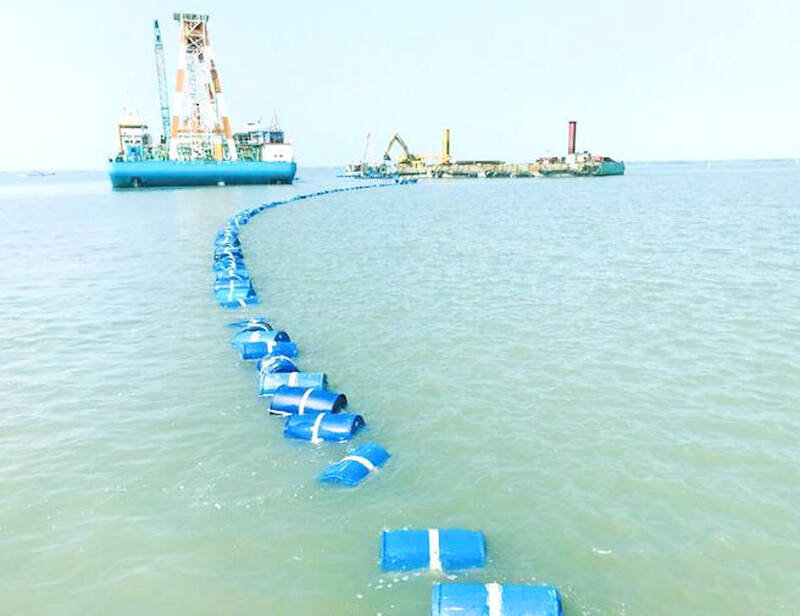 A construction boat pulls an underwater cable to shore in 2018.
Photo courtesy of Chunghwa Telecom
It was advised to provide the definition and classification of "critical infrastructure," with system specifications and their interdependent networks, which would allow a comprehensive legal framework to implement a protection program.
Presentations at the conference cited cases of Chinese businesses stealing trade secrets and core technology from Taiwan's leading companies, and also how government agencies and state enterprises were targeted by a massive cyberattack after then-US House of Representatives Speaker Nancy Pelosi visited Taiwan last year.
Also cited was when two undersea cables linking Lienchiang County to Taiwan Proper were cut in separate incidents by a Chinese fishing vessel and freighter in February. It disrupted the Internet telecommunication links, which had a detrimental impact on the daily living conditions of Lienchiang County residents and undermined the county's troop defense preparedness.
Military experts said this was China making practice runs to sever and incapacitate Taiwan's Internet connectivity and telecommunications, meaning that Taiwan's national security and core technology are under threat.
Judiciary officials said a draft bill for amendments to the National Security Act (國家安全法) had passed its third reading at the Legislature last year, with articles to stipulate a 12-year maximum sentence on convictions of stealing trade secrets related to "national core technology," but it has not been promulgated yet.
Prosecutor Liu Yi-chun (劉怡君) said the amended articles have tied together trade secrets and "national core technology," meaning it can only issue a punishment when both instances have been breached, which makes it much more difficult to attain conviction, resulting in less protection.
Liu said Taiwan should follow the example of South Korea's Act on Prevention of Divulgence and Protection of Industrial Technology, in which when putting a core technology under protection, actions on unauthorized access and transfer would come under criminal charges, and would have a more severe penalty when theft had taken place.
National Taiwan University law professor Lin Yu-hsiung (林鈺雄) said last year's draft was a step closer toward protecting national security and core technology, but because the amendments did not cover all possible violations, a dedicated set of statutory law is needed.
Lin also called on elevating the Office of Homeland Security to a higher agency under the Executive Yuan.
Lin said that a comprehensive legal framework on national security is very important for Taiwan, but the nation's law schools have no course on it.
He added that the Supreme Prosecutors' Office has compiled the listing of "Case Investigation on National Security in 2023" which is helpful to identify the forms of attack, which allows for the development of protection programs to counteract the threats.
Researcher Chiou Wen-tsong (邱文聰), at Academia Sinica's Institutum Iurisprudentiae, stressed that the government must enforce strict control on foreign capital investment into Taiwan from the known hostile countries.
High Court Judge Ku Cheng-te (顧正德) said: "Critical infrastructures are vital for the security and public interest for the nation and all society sectors, and so we must establish for legal protection under the law immediately."
"To mete out punishment on prosecution afterwards have a limited effect. It is more important to have prevention, and to deal with administrative control afterwards," Ku said.
Professor Huang Chun-nen (黃俊能) of Central Police University said Taiwan clearly has inadequate protection for critical infrastructure, lacks a legal framework and concept for deterring threat, and has insufficient cooperation between the public and private sectors," adding that these "all must be strengthened with open information-sharing to achieve better critical infrastructure protection."
Comments will be moderated. Keep comments relevant to the article. Remarks containing abusive and obscene language, personal attacks of any kind or promotion will be removed and the user banned. Final decision will be at the discretion of the Taipei Times.