MOE invests NT$424.7m in bilingual education
HIGHER EDUCATION: The Ministry of Education said funding for each of seven select universities would range between NT$50 million and NT$82.5 million
The government is allocating NT$424.7 million (US$13.23 million) to fund bilingual education programs in seven universities as well as colleges, in the 2023 to 2025 school years, the Ministry of Education (MOE) said yesterday.
The ministry launched a project in 2021 to help university and college students learn in a Mandarin-English environment as part of the government's Bilingual 2030 policy. Universities that receive funding through the project should encourage faculty members to use English when teaching.
In the 2021 school year, a portion of funding from the Executive Yuan's Forward-Looking Infrastructure Development Program was allocated to fund four universities to improve the bilingual environment: National Taiwan University (NTU), National Taiwan Normal University, National Cheng Kung University and National Sun Yat-sen University.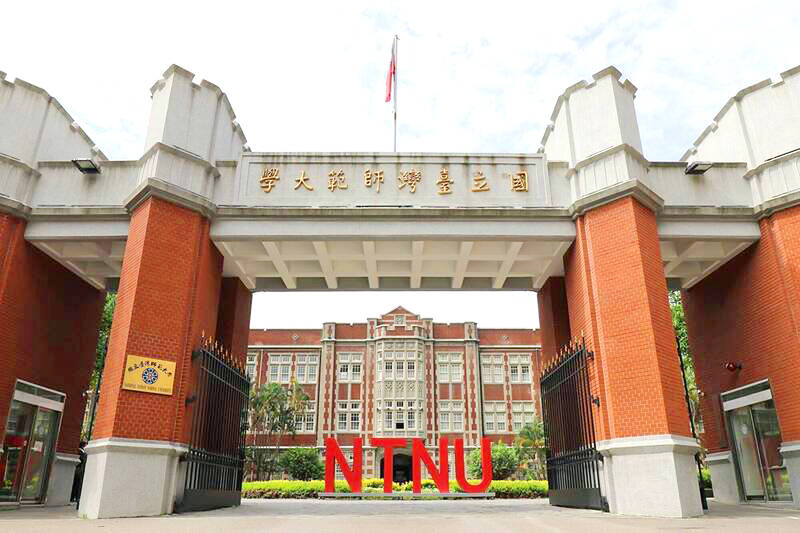 The main entrance to National Taiwan Normal University in Taipei is pictured in an undated photograph.
Photo courtesy of National Taiwan Normal University
For the 2023 to 2025 school years, three more universities have been selected for focused development of bilingual education: National Tsing Hua University, National Chengchi University and National Taiwan University of Science and Technology.
The seven universities are where the government would spend a considerable amount of resources and funding to cultivate bilingual learning environments, with the amount of funding received varying from NT$50 million to NT$82.5 million, the ministry said.
Universities seeking to qualify for the funding are evaluated based on criteria including, from the university's structure and organization, student-teacher ratio, courses, resources and partnerships with domestic and international academic institutions, the ministry said.
In their applications, universities should also propose the amount of funding they need to achieve the project's goal and ways to gauge their performance, it said.
Additionally, 44 colleges are to receive funding through the project in the next three years, up from 41 colleges in the 2021 school year.
Universities and colleges receiving the funding must reach a "25-20-20" goal in the following school year. This means that they must have at least 25 percent of sophomore students whose English proficiency in listening, speaking, reading and writing reach B2 or higher levels in the Common European Framework of Reference for Languages (CEFR), and at least 20 percent of sophomores and first-year graduate students receiving 20 percent or more credits through courses taught entirely in English.
Some university presidents said that the ministry's design does not distinguish between students who are admitted to top universities and those who are not.
"Universities like NTU can recruit the best students in the country, who can even be exempt from taking required freshman English courses. However, students in other universities might take some time to achieve the '25-20-20' goal," a private university president said.
National Tsing Hua University honorary professor Richard Lee (李家同), a harsh critic of the project, wrote on Facebook this week that he felt sorry for ministry officials, as the project was something they simply must do to satisfy demands of higher authorities.
"If the purpose of the project is to create bilingual learning environments in colleges and universities, then all universities and colleges around the country should be selected for the project, instead of choosing just seven of them... The reason that the ministry did so was because ministry officials know all too well that only a small number of students with high English proficiency can understand professional courses taught in English, and they know it is impossible for bilingual teaching to improve students' English proficiency," Lee said.
Minister of Education Pan Wen-chung (潘文忠) said that it was known from the beginning that every university is different in terms of resources they can offer and students they can attract.
"Schools that are ready to offer courses in Mandarin and in English can go first... Students can choose to be instructed in English or in Mandarin," Pan said.
Comments will be moderated. Keep comments relevant to the article. Remarks containing abusive and obscene language, personal attacks of any kind or promotion will be removed and the user banned. Final decision will be at the discretion of the Taipei Times.