Two killed, nine injured after being stung by hornets
Two people were killed and another nine injured yesterday after being stung by hornets while hiking in New Taipei City's Rueifang District (瑞芳), with officials warning against wearing perfume or straying from trails during the autumn to avoid the potentially deadly creatures.
Seven of the hikers only sustained minor injuries after being stung along the Bafenliao Hiking Trail (八分寮) and made their way down the mountain with a guide, the New Taipei City Fire Department said.
Four of them — all male — sustained more serious injuries and were assisted when leaving the mountain, the department said.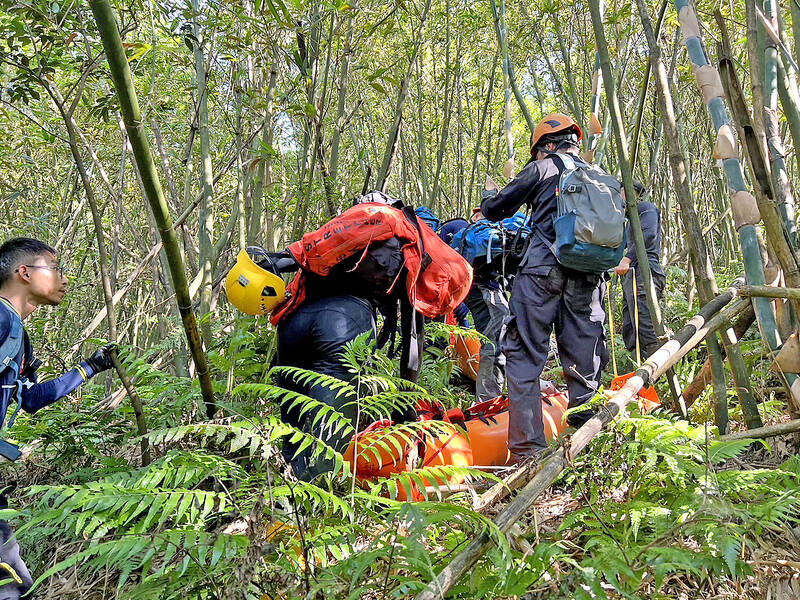 Rescuers respond to a hornet sting incident in New Taipei City's Rueifang District yesterday.
Photo copied by CNA
Two of them, a man surnamed Chiao (焦) and another surnamed Hu (胡), were sent to Rueifang Miner Hospital and Taiwan Miner's General Hospital respectively for emergency treatment, but were both declared dead at about 6pm, the hospitals said.
One of the hikers had slipped about 5m in their attempt to run away from the hornets, but did not sustain any broken bones from the incident, the department said.
One of the seven hikers told doctors at Chang Gung Memorial Hospital that she had been stung by a hornet, and that her hands were numb and in pain at the same time.
Cheng Chien-wei (鄭千威), a doctor in the emergency room at the hospital's Keelung branch, said that the four men with more serious injuries were stung on the head and arms, but did not require hospitalization.
Rueifang District Office Chief Secretary Lee Kuan-hung (李觀宏) said the hiking trail has been temporarily closed until the New Taipei City Government has removed the hornet nests.
The district is to dispatch patrols and put up warning signs before the trail is reopened, Lee said.
To protect against hornet stings, the fire department and the New Taipei City Animal Protection and Health Inspection Office yesterday urged hiking enthusiasts to take heed of their clothing, refrain from putting on perfume, stay on established paths and not disturb hornet nests.
Bees and hornets are most active in the autumn, they said, urging hikers to avoid antagonizing the insects.
Hornets are more prone to attack things that are black, furry and moving, the office said, adding that hikers should wear hats and light-colored clothing, and refrain from wearing shorts and T-shirts.
Rueifang District Warden Yang Sheng-min (楊勝閔) also suggested that hikers avoid wearing perfume, wear hats and light, long-sleeved shirts to protect themselves from stings.
Additional reporting by Lu Hsien-hsiu
Comments will be moderated. Keep comments relevant to the article. Remarks containing abusive and obscene language, personal attacks of any kind or promotion will be removed and the user banned. Final decision will be at the discretion of the Taipei Times.