Quake alerts due to limitations in distant monitoring: CWA
Two alerts for an earthquake with a perceived magnitude of 1 were erroneously sent on Monday due to technological limitations with detecting distant seismological activity, the Central Weather Administration (CWA) Seismological Center said on Tuesday.
At 9:21pm on Monday, a magnitude 6.8 earthquake struck about 437km east of Keelung between Japan's Miyakojima and Kumejima islands at a depth of 36.6km.
The greatest intensity felt in Taiwan was magnitude 1 along the east coast and central counties.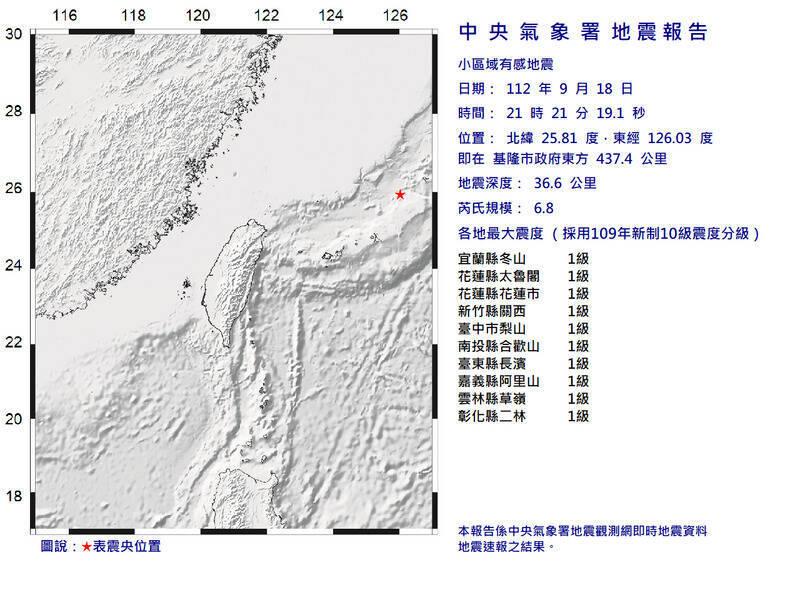 A map shows the location of a magnitude 6.8 earthquake that struck at 9:21pm on Monday about 437km east of Keelung.
Photo courtesy of the Central Weather Administration
However, residents of New Taipei City, Keelung and Yilan County at 9:22pm received two SMS alerts, one from the CWA and one using the agency's old name, the Central Weather Bureau.
The discrepancy was due to technical limitations with sensing earthquakes further than 100km away, center technical officer Chiu Chun-ta (邱俊達) told a news conference on Tuesday.
The system automatically determines whether to issue an alert based on initial data, thereby sacrificing precise accuracy, he said.
On Monday, the system detected the position and intensity to be within its monitoring network, and with the additional consideration of its shallow depth, determined it met the criteria for issuing an alert, Chiu said, adding that it was the first time an alert was issued for such a distant earthquake.
As for the repeated message, Chiu said there are still some minor issues as the agency transitions into the CWA.
However, he added that the messages were not a mistake, as there was an earthquake that occurred.
The CWA hopes to cooperate with its neighbors to receive seismic data from additional stations to improve the accuracy of its reporting of distant earthquakes, he said.
A tsunami risk is unlikely, as it usually takes a quake of at least magnitude 7 and within a depth of 35km to cause the ripples on the seabed that lead to tsunamis, he added.
Additional reporting by CNA
Comments will be moderated. Keep comments relevant to the article. Remarks containing abusive and obscene language, personal attacks of any kind or promotion will be removed and the user banned. Final decision will be at the discretion of the Taipei Times.