US Taiwan's 'sincerest ally and friend,' Hou says
New Taipei City Mayor Hou You-yi (侯友宜), the Chinese Nationalist Party's (KMT) presidential candidate, said at a dinner party in Washington on Sunday that the US is Taiwan's "sincerest ally and friend," and he is looking forward to deepening bilateral ties if he is elected in January next year.
Like the US, Taiwan values freedom and democracy, and on the strength of those shared values, Taiwan has been a firm ally of the US for decades, Hou said at a gathering of about 400 Taiwanese and ethnic Chinese expatriates.
"Also, for years, the US has been Taiwan's sincerest ally and friend," he said at the dinner party, which was hosted by the Chinese Consolidated Benevolent Association of Washington, one of the city's biggest ethnic Chinese expat groups.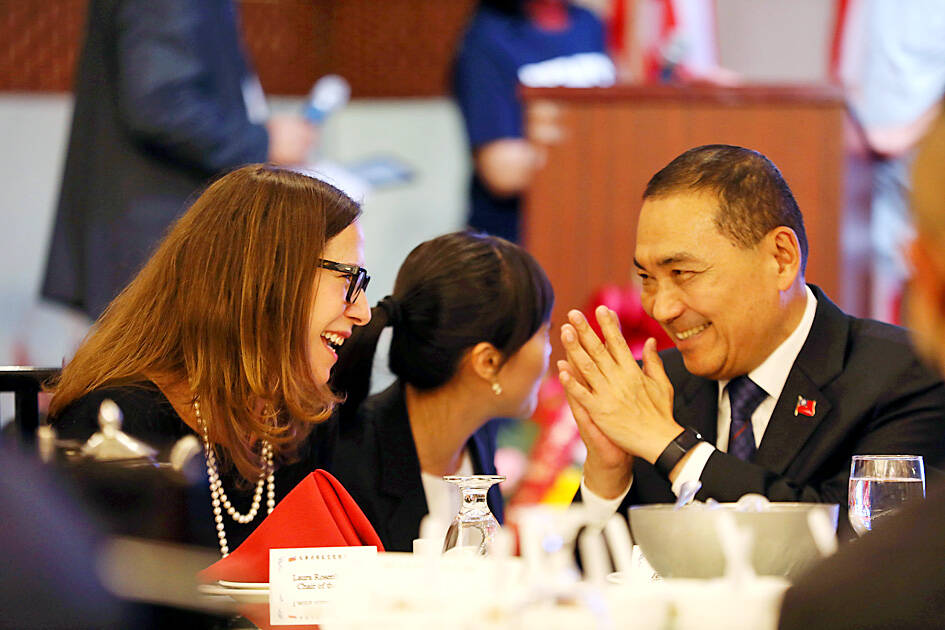 American Institute in Taiwan Chair Laura Rosenberger, left, and New Taipei City Mayor Hou You-yi, right, the Chinese Nationalist Party's (KMT) presidential candidate, interact during a dinner party in Washington on Sunday.
Photo: CNA
"I look forward to deepening our bilateral friendship in the years to come," Hou told the dinner guests, who included American Institute in Taiwan (AIT) Chair Laura Rosenberger.
Hou, who is on an eight-day trip to the US, said that as the KMT's presidential candidate, his main goal is to bring peace to Taiwan, which has been at risk of war with China since the Democratic Progressive Party (DPP) came to power in 2016.
"I am here in the United States to brief you all on how I, as a future leader, will guide Taiwan out of that crisis," he said.
He reiterated his stance that cross-strait peace can only be achieved through strength and exchanges that enhance understanding.
Rosenberger said Washington and Taipei had made big strides in their bilateral relations over the past few months.
Those achievements included the signing in June of their first trade agreement under the US-Taiwan Initiative on 21st-Century Trade, which "will streamline regulations and facilitate trade to pave the way for increased economic opportunities in both markets," she said.
The two sides have also built closer cooperation in the areas of 5G, electric vehicles, sustainable energy and Internet security, she said.
On the issue of regional security, she said that Taiwan is a "crucial partner" in efforts to maintain cross-strait peace and stability.
"The United States has long been committed to enabling Taiwan to maintain a sufficient self-defense capability," she said. "Let me assure you that our commitment to that remains rock solid."
The dinner was part of Hou's agenda to promote his presidential platform during his US visit, which started on Thursday and includes meetings with US lawmakers and academics from the Brookings Institution and the Heritage Foundation.
Hou has said that during his scheduled closed-door speech at the Brookings Institution yesterday he planned to announce the details of his "3D defense policy," which his aides have said refers to deterrence, dialogue and de-escalating.
The policy focuses on boosting the nation's defense capabilities, while simultaneously promoting dialogue with all parties involved, so as to significantly lower the risk of a cross-strait war, Hou said.
In Taipei, his "3D defense policy" was denounced by the DPP as lacking "defense," to which the KMT said the DPP should not criticize those who strive for regional peace.
Meanwhile, the campaign office of Vice President William Lai (賴清德), the DPP's presidential candidate, slammed Hou for comments he made during a visit to a burger shop owned by a Taiwanese in New York.
He said that "at 60 years of age I am still looking for a job, and I might as well come to the US and sell burgers if I am to become unemployed [not elected.]"
Hou's remarks showed he was neglecting his role and responsibilities as the mayor of New Taipei City, Lai's campaign team said.
Comments will be moderated. Keep comments relevant to the article. Remarks containing abusive and obscene language, personal attacks of any kind or promotion will be removed and the user banned. Final decision will be at the discretion of the Taipei Times.