2.2 million passport applications next year
An increase of 300,000 passport applications is expected next year, boosting its predicted total to about 2.2 million, the Ministry of Foreign Affairs' (MOFA) Bureau of Consular Affairs said.
In 2019, the nation's total amount of passports issued came to 1.74 million, it said, adding that once the COVID-19 pandemic began to ravage many countries, the figure had dwindled to 316,000 in 2020, further diminishing to 233,000 in 2021.
It is expected to reach 2.196 million next year, the bureau's proposed budget for 2024 showed, which included 1.63 million for passports with a 10-year validation period, 408,000 passports with a five-year validation period, and an expedited service for fast-track issues at 156,000.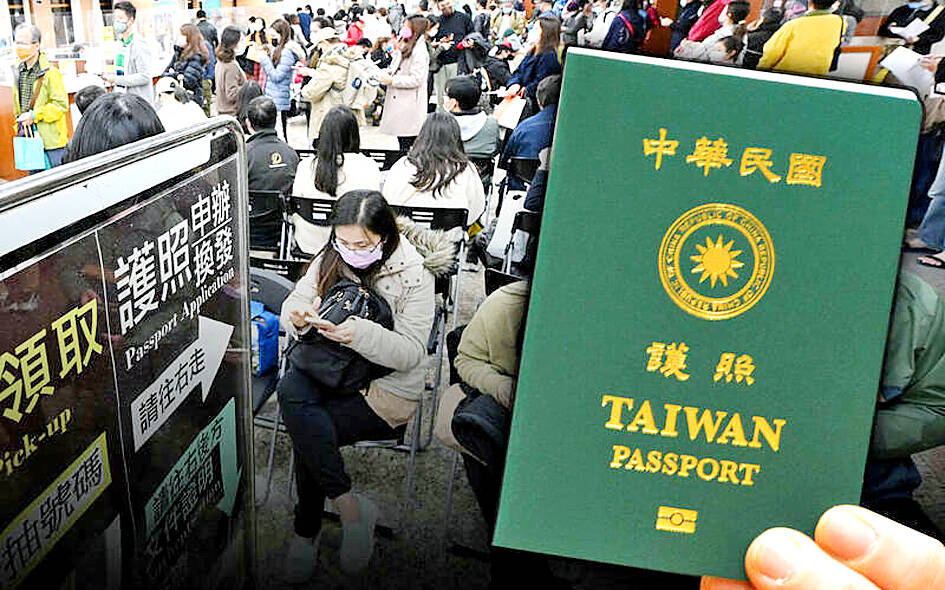 A composite image shows a copy of the Taiwan passport and people applying for passports at the Ministry of Foreign Affairs' Bureau of Consular Affairs in Taipei.
Photo: Taipei Times
This would represent a rise of 303,500 for next year, as the bureau estimated a total of 1.892 million passports would be issued by the end of this year. The bureau's proposed budget for next year stands at NT$2.629 billion (US$82.34 million), which is an increase of NT$351.2 million compared to this year.
Meanwhile, when reviewing the bureau's budget report, legislators said that the nation's 14-day stay for visitors without a visa had been offered to holders from Thailand, Brunei, and the Philippines for several years.
However, these countries are still not offering reciprocal terms for Taiwanese citizens.
In response, MOFA officials said it remains an important task for the nation's overseas consular offices in seeking the host country to grant for visa-free visits, electronic visa applications, or improved terms for Taiwanese citizens.
"Our government has made an official request to Thailand to grant our citizens visa-free visits for tourism, which is currently under deliberation by the Thai government," a MOFA spokesperson said, adding that ongoing efforts are still underway with the Brunei government, for tourism visa waivers.
It said it has earlier initiated a visa-free program with the Philippines, which should result in boosting their visiting trips to Taiwan.
However, our side continues to negotiate with them on this issue, it said.
Comments will be moderated. Keep comments relevant to the article. Remarks containing abusive and obscene language, personal attacks of any kind or promotion will be removed and the user banned. Final decision will be at the discretion of the Taipei Times.