Chinese downturn raises Taiwan risks: Gallagher
'MAXIMUM DANGER': Disagreeing with Joe Biden's view, the US lawmaker said that faced with Beijing's economic woes, China's president could do something 'very stupid'
China's economic slowdown could increase the risk of Beijing taking military action toward Taiwan, the Republican chair of a US congressional committee on China said on Monday, drawing a contrast with US President Joe Biden, a Democrat, who said it made it less likely.
Biden on Sunday called China's economic troubles a "crisis," and said he did not think it would cause China to invade Taiwan, as he felt Beijing probably did not have the "same capacity" it previously did.
"I don't know if that's true," Mike Gallagher, chair of the US House of Representatives' Select Committee on the Strategic Competition Between the US and the Chinese Communist Party, told a US Council on Foreign Relations event in New York.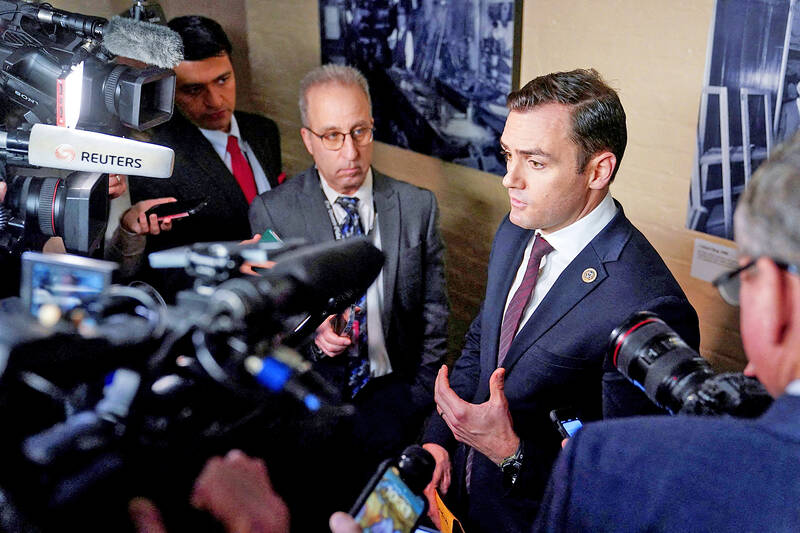 US Representative Mike Gallagher speaks to reporters after a Republican caucus meeting at the Capitol in Washington on Jan. 3.
Photo: Reuters
"I just think it's equally as plausible that, as China confronts serious economic and demographic issues, [Chinese President] Xi Jinping [習近平] could get more risk accepting, and could get less predictable and do something very stupid," Gallagher said.
China "definitely wants to become the regional hegemonic, which necessarily means cutting up our [the US] alliances and partnership structure ... [and] also necessarily entails taking over Taiwan at some point," he said.
"It seems to me that Xi Jinping is preparing for war," as he talked about the Korean War in a lot of speeches, he said, adding that Chinese view the war as "a time when they stood up to the technologically superior Americans and they won on the battlefield."
"A war between our two countries [the US and China] would be absolutely horrific," so the committee is striving to prevent this outcome, he said.
US Representative Raja Krishnamoorthi agreed, saying: "If we go to conflict over Taiwan, there is a non-trivial chance of a pre-emptive attack on American interests or targets by the CCP [Chinese Communist Party]," as happened during the Korean War.
US soldiers and critical infrastructures might all be the target of attacks if such a conflict broke out, he said.
"It could be right on our doorsteps," he added.
Analyzing current relations between Washington and Beijing, Gallagher said: "The window we're in right now is what I call the window of maximum danger."
The situation might be "most acute in the next decade," as Xi is facing serious demographic and economic challenges domestically while refusing to renounce the use of force against Taiwan if necessary, he said.
The dangerous period "will kick off really in earnest after the Taiwanese [presidential] election in January, particularly if the DPP [Democratic Progressive Party] wins," he said, adding that the US should "find a way to make deterrence work in this decade."
The US must "make sure Taiwan is able to deter" Chinese attacks, Krishnamoorthi said.
He advocated for "robust and smart investment in hard power" to bolster military deterrence, such as long-range precision fire systems and autonomous systems, which are less exquisite and less expensive, but would not take years to build.
They also discussed the need for the US to selectively decouple or de-risk in key areas against Chinese economic aggression, such as theft of intellectual property, dumping cheap products and cyberattacks.
Gallagher called on the US to bolster ties with its partners, allies and friends to put pressure on the CCP to counter its aggression on economic and military fronts.
Although the answer regarding how to reach a "new equilibrium" between the US and China might not be clear at the moment, "making a deterrence by denial strategy work [and] preventing World War III is I think, the near term objective," he said.
Separately, former US House of Representatives speaker Nancy Pelosi in an interview with the BBC's Hardtalk television program that aired last week rebutted the interviewer's comment that "Joe Biden appears unsure what America's strategic stance is on China."
"What's clear is that we are for a 'one China' policy that didn't change by my trip [last year]," she said.
It is the policy of Biden's administration to provide Taiwan with the resources it needs to defend itself, she said, adding that "neither side [of the Taiwan Strait] should change the status quo, especially violently."
Comments will be moderated. Keep comments relevant to the article. Remarks containing abusive and obscene language, personal attacks of any kind or promotion will be removed and the user banned. Final decision will be at the discretion of the Taipei Times.