Group, hospital to support carers of dementia patients
Migrant worker support organization One-Forty has announced a partnership with Taipei City Hospital to provide online support and training for caregivers of people with dementia.
The number of people with dementia in Taiwan surpassed 320,000 last year, and with the nation set to become super-aged by 2025, the figure is expected to grow.
At the same time, one in every five dementia patients is cared for by a migrant worker, One-Forty said in a statement last week.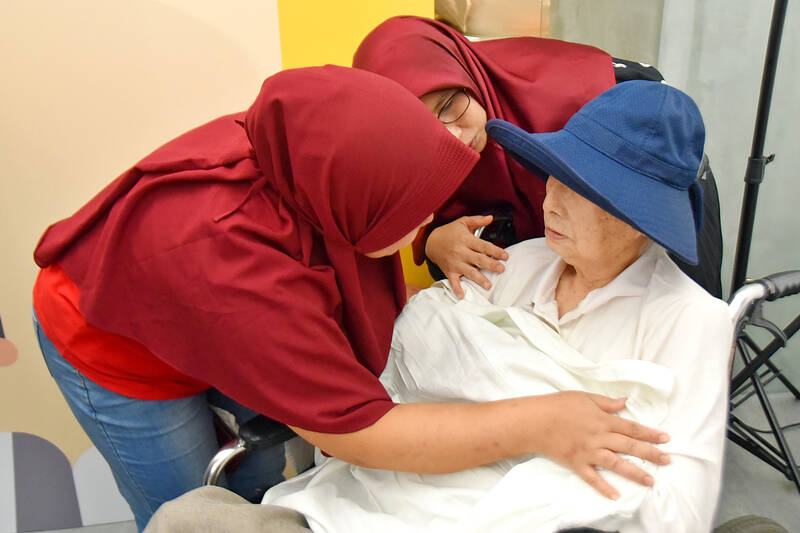 Two caregivers attend to an elderly person in Taipei on Tuesday.
Photo: Wu Po-hsuan, Taipei Times
The non-profit organization has partnered with the Dementia Center at Taipei City Hospital to produce a free handbook and instructional videos, as well as the nation's first online support network for foreign caregivers of dementia patients, the organization said.
Caregivers face three major obstacles in their work, One-Forty cofounder Kevin Chen (陳凱翔) said.
In a survey conducted this year, the group found that 80 percent of caregivers had encountered a language barrier, he said.
Sixty percent said they did not know where to obtain the skills and information needed to care for people with dementia, while another 60 percent were unfamiliar with the symptoms, he said.
Meanwhile, more than 90 percent of people with dementia exhibit behavioral or emotional issues such as sudden agitation or paranoia, he said.
If caregivers cannot recognize these symptoms and do not have access to information, it could easily result in misunderstandings or conflict, Chen said.
The educational materials organized by One-Forty and the center include information on dementia symptoms and tips for interacting with patients, as well as tips for caring for one's own health in the process, Chen said.
To aid caregivers regarding their own mental health, One-Forty also organizes in-person workshops, as well as an online community for caregivers to help support one another, he added.
In the first phase of the program, One-Forty said it expects 3,000 downloads of the bilingual Chinese and Indonesian educational materials.
It also plans to expand to include Tagalog, Vietnamese and other language versions before 2026 so that all 60,000 foreign caregivers of people with dementia in Taiwan can receive assistance, the organization added.
Comments will be moderated. Keep comments relevant to the article. Remarks containing abusive and obscene language, personal attacks of any kind or promotion will be removed and the user banned. Final decision will be at the discretion of the Taipei Times.