KMT demands investigation on egg importer
The Chinese Nationalist Party (KMT) yesterday accused Ultra Source Ltd of being a dummy company established to take advantage of an egg shortage and asked whether it had illegally colluded with the government.
The company was only established in September last year with NT$500,000 (US$15,693) in capital, yet it was asked to import 88.14 million eggs, KMT caucus convener William Tseng (曾銘宗) said.
Tseng asked where the money came from, how much profit was made and where the money went.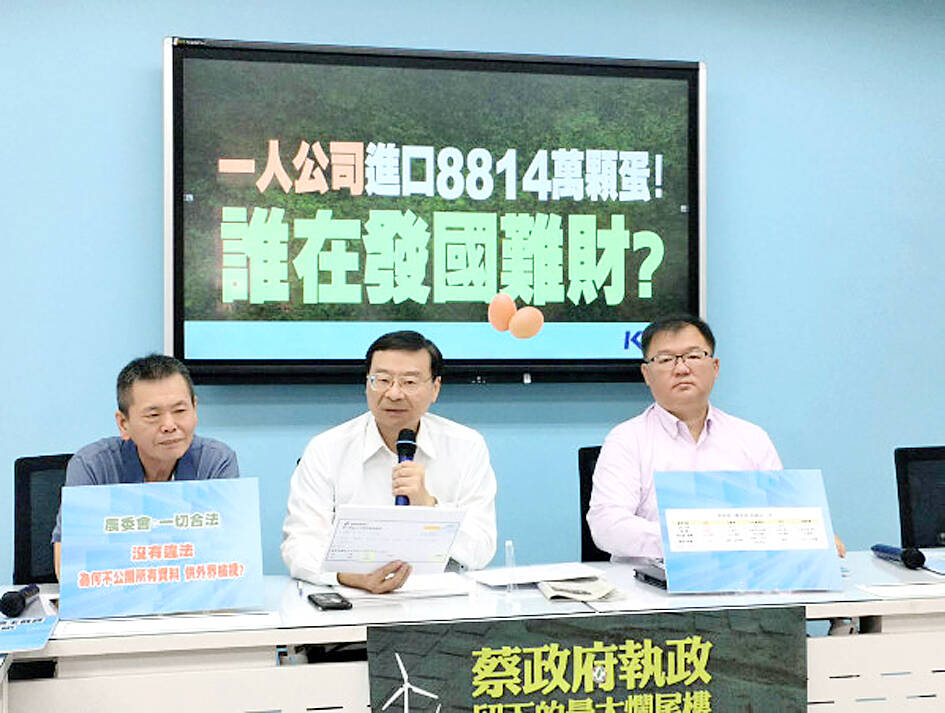 Chinese Nationalist Party (KMT) caucus convener William Tseng, center, speaks at a press conference in Taipei yesterday.
Photo courtesy of the KMT caucus
He asked whether members of the Democratic Progressive Party (DPP) were behind the company.
The government granted subsidies of NT$559 million from March to July under an import program to address the egg shortage, Tseng said.
It must provide a list of the firms that received the funds so it can be determined whether people or groups improperly benefitted from the grants, he said.
KMT caucus deputy secretary-general Lee Te-wei (李德維) said that 11 egg importers were part of the government program, but only Ultra Source was asked to import so many eggs.
Even state-funded Mitagri Corp, which has NT$1 billion in capital, only imported 30 million eggs, Lee said.
It is puzzling why the Council of Agriculture would put so much faith in Ultra Source, a company with such low capital, he said.
KMT Legislator Lin Wei-chou (林為州) said that the National Animal Industry Foundation selected the companies to participate in the program.
The Ministry of Agriculture subsidized 30 percent of the import taxes the firms had to pay for eggs, Lin said.
An imported egg cost on average NT$5.59 while customs taxes were NT$1 to NT$2 per egg, meaning that the Council of Agriculture in essence bought eggs for NT$7 each, but sold them to vendors for NT$4.7 each, he said.
Ultra Source's 88.14 million imported eggs cost Taiwanese NT$200 million, but the company has not reported how much it profited from egg sales, he said.
The situation raises suspicion that specific companies were favored and demands an investigation, Lin said.
DPP lawmakers urged the KMT to provide evidence to back up its allegations.
Additional reporting by Chen Cheng-yu
Comments will be moderated. Keep comments relevant to the article. Remarks containing abusive and obscene language, personal attacks of any kind or promotion will be removed and the user banned. Final decision will be at the discretion of the Taipei Times.