China's internal turmoil could provoke war: official
ONE MAN'S RULE: The meetings of two important decisionmaking bodies appear to have been sidelined to make way for Xi Jinping's dominance
Beijing has stopped keeping a regular schedule for convening two of its most important decisionmaking bodies in a change highlighting the increasing unpredictability of Chinese President Xi Jinping's (習近平) rule, an official familiar with the matter said.
Xi's fickle governance could spark unrest in China, which increases the risk of war for Taiwan, the official said earlier this week on condition of anonymity.
The Central Comprehensively Deepening Reforms Commission (CCDR), a group Xi personally controls, has steered China's social and economic policy since its founding in 2013 by the third Plenary Session of the 18th Central Committee of the Chinese Communist Party, he said.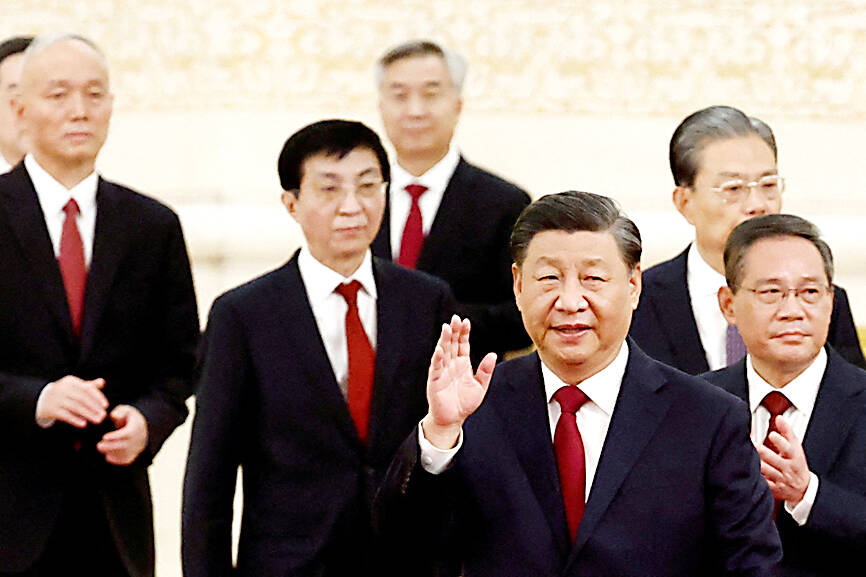 New Politburo Standing Committee members Xi Jinping, Li Qiang, Zhao Leji, Wang Huning, Cai Qi, Ding Xuexiang and Li Xi arrive to meet the media following the 20th National Congress of the Chinese Communist Party at the Great Hall of the People in Beijing on Oct. 23 last year.
Photo: Reuters
For nearly a decade, this body regularly held meetings every two months, but the pattern was broken with its meeting in September last year, which was not followed by another one until late April this year, he said.
After that, the group held its most recent meeting on July 11, showing that the scheduling of commission meetings has lost all rhyme or reason, he said.
The CCP's Politburo, nominally a superior agency to the CCDR, was not immune to this trend and increasingly convened at irregular times following Xi's ascension to the presidency for life, he said.
Consisting of a standing committee of seven people and 17 other members in various subordinate commissions, the Politburo exercises authority in matters concerning Chinese politics, macroeconomics and the top appointments, he said.
By tradition, the Politburo convenes once a month to perform its functions, but this is no longer true, which hints at the decline of the institutions and the arbitrary nature of Xi's reign, he said.
Xi seems to convene the Politburo at whim as his personal authority increasingly superseded the party's institutionalized decisionmaking processes, he said.
These developments will have far-reaching consequences for China, as foreign firms are likely to balk at the risks of doing business in a volatile and unpredictable state, the official said, adding that Taiwanese investors are becoming pessimistic about the market.
Xi's erratic decisionmaking, efforts to build a digital totalitarian state and an economy increasingly hobbled by foreign capital flight significantly increase the risks of domestic instability, the official said.
As Beijing could resort to war to divert public attention from an internal crisis, Taiwan should do everything possible to boost its defense, he said.
Comments will be moderated. Keep comments relevant to the article. Remarks containing abusive and obscene language, personal attacks of any kind or promotion will be removed and the user banned. Final decision will be at the discretion of the Taipei Times.