Man fined NT$4m for illegal base station
PHISHING SCAM: It is being investigated how Kuo and his cohorts obtained the illegal mobile base station and whether it was imported, an official said yesterday
A man who illegally set up a mobile base station in a rental car to distribute phishing messages was fined NT$4 million (US$125,984) for contravening the Telecommunications Management Act (電信管理法), the National Communications Commission (NCC) said yesterday.
This was the first time that the telecom regulator issued an administrative fine to an individual for setting up an unauthorized base station.
The Criminal Investigation Bureau's Telecommunications Investigation Corp on Nov. 18 last year arrested a man surnamed Kuo (郭) near Taipei's Zhongshan MRT Station for allegedly carrying a mobile base station in a rental car to distribute phishing messages, NCC Vice Chairman and spokesman Wong Po-tsung (翁柏宗) told a news conference yesterday afternoon.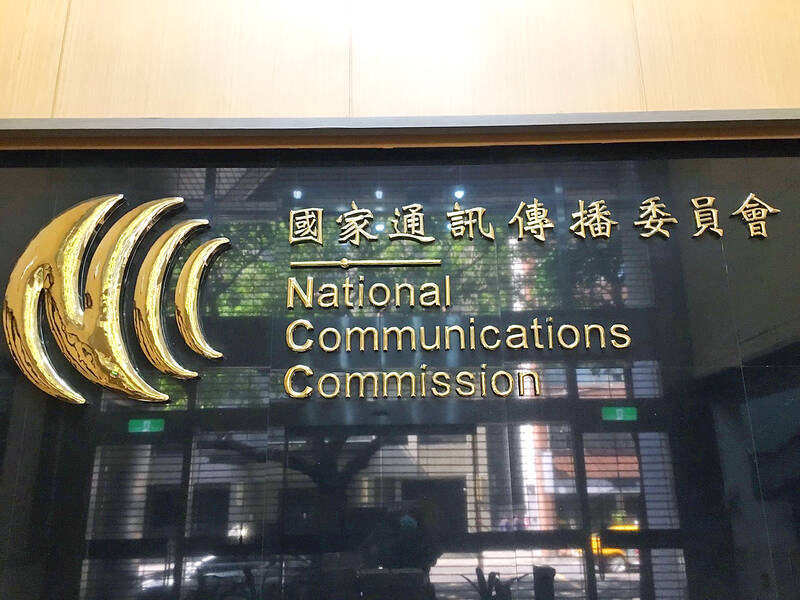 The National Communications Commission's name and logo are pictured on its building in Taipei in an undated photograph.
Photo: Yang Mien-chieh, Taipei Times
The illegal mobile base station was confiscated on the spot, he said.
"Recipients of the messages were told that Far Eastern Toll Collection Co (FETC), the operator of freeway toll tag eTag, failed to collect their toll fees, and they needed to re-enter billing information on their credit cards," Wong said. "They were subsequently instructed to click on a link to a fake Web page and enter their credit card information."
Kuo and his cohorts added the illegally obtained credit card information to their mobile payment system, allowing them to purchase mobile phones or other high-end electronic products, the commission said.
Telecommunications Investigation Corp further identified through its 165 Anti-Fraud Hotline database 30 more similar cases that happened from September to November last year, in which victims' credit card information was stolen after clicking on a link in messages allegedly pretending to be sent by FETC or E.Sun Commercial Bank, the commussion said.
The collective financial losses were estimated to exceed NT$3 million, it said, adding that the Yunlin District Prosecutors' Office on April 10 indicted Kuo and 11 other individuals for contravening the Criminal Code and Organized Crime Prevention Act (組織犯罪防制條例).
After examining the results of the investigation conducted by Telecommunications Investigation Corp, the NCC decided that Kuo had contravened Article 52 of the Telecommunications Management Act for using part of radio frequency band in 1,800MHz without first securing approval from the commission, Wong said, adding that the fine ranges from NT$1 million to NT$10 million.
"By using an illegal mobile base station, Kuo interfered with the use of the frequency band by its legal user, illegally collected personal data from 22 people and reaped illegal profits topping NT$2 million," Wong said. "As such, the commission decided to toughen the sanction by setting the fine at NT$4 million."
The mobile base station that Kuo used was able to overwhelm the reception of signals sent by the frequency band's legal user, as it is a 2G system, which does not have a two-way verification system, Wong said.
The commission is still investigating how Kuo and his cohorts obtained the illegal mobile base station — whether it was imported from overseas or manufactured in Taiwan, he said, adding that the fine for illegally importing or manufacturing radio frequency products is between NT$10,000 and NT$1 million.
Kuo imported five mobile base stations from China, and prosecutors are still tracing four other base stations and more scammers, some media reports said.
Comments will be moderated. Keep comments relevant to the article. Remarks containing abusive and obscene language, personal attacks of any kind or promotion will be removed and the user banned. Final decision will be at the discretion of the Taipei Times.