Scientists' lobster discovery could change the industry
Taiwanese scientists have developed an algorithm that could tell when lobsters are about to molt, in a technological breakthrough that can be a boon for aquafarms supplying the soft-shell crustacean delicacy.
The computer-based image recognition system — which detects a molting lobster through changes in behavior, carapace shedding, activity frequency and other visual clues — could help aquafarms save labor, the state-run Fisheries Research Institute said on Friday in a news release.
A lobster farm with 10,000 cages can save 20 to 30 percent of time with the system, said Cheng Ming-chung (鄭明忠), the researcher who designed it.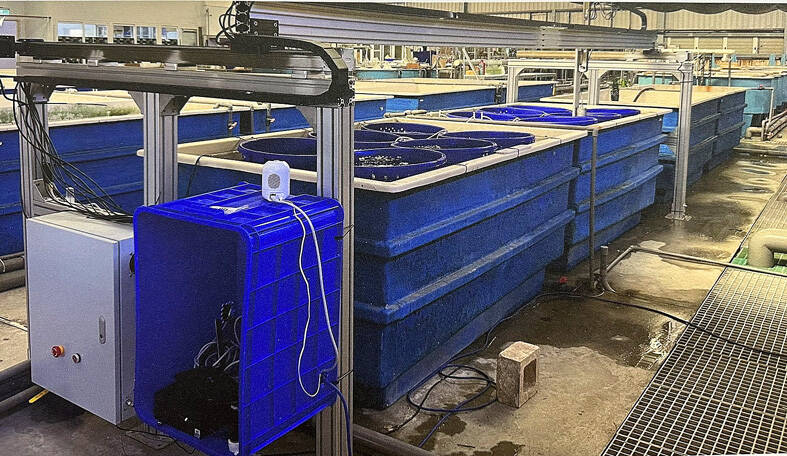 A system developed by the Fisheries Research Institute that can tell when lobsters are about to molt is pictured in an undated photograph.
Photo: Yang Yuan-ting, Taipei Times
By tracking the movements of the crawfish and taking exact carapace measurements, the system can identify the lobsters that are about to molt and predict the time the change is to happen, he said.
The lobsters under observation are assigned a color code, with green meaning no action required, while yellow indicates that the specimen is to molt in 24 hours and red indicates that the staff should prepare to harvest immediately, Cheng said.
As lobsters readily devour members of their own kind, harvesting lobsters within 30 minutes of molting is crucial for farms, Cheng said.
Individual cages can prevent the loss of a recently molted lobster to cannibalism, but the unpredictability of molting cycles means that a round-the-clock watch must be kept, which is cost-prohibitive, he said.
Many gourmet restaurants specializing in French or Japanese cuisine seek soft-shell lobsters, he said, adding that such crawfish is worth NT$2,000 per kilo, which is double the price of regular lobsters.
The system's ability to reduce reliance on manual labor has significant advantages to the industry, Cheng said.
Comments will be moderated. Keep comments relevant to the article. Remarks containing abusive and obscene language, personal attacks of any kind or promotion will be removed and the user banned. Final decision will be at the discretion of the Taipei Times.