Keelung ammunition depot's future discussed
Keelung residents and politicians have been debating the future of an ammunition depot in the city, after a blast there injured nine soldiers on Monday.
Nine soldiers were injured, two seriously, after a 120mm mortar round exploded by accident during an inspection on Monday afternoon at the depot at the Hsiang Feng Military Base administered by the Sixth Army Command.
Chinese Nationalist Party (KMT) Keelung City Councilor Lu Mei-ling (呂美玲), who represents the district, suggested relocating the depot to Yilan County or New Taipei City's Wanli District (萬里).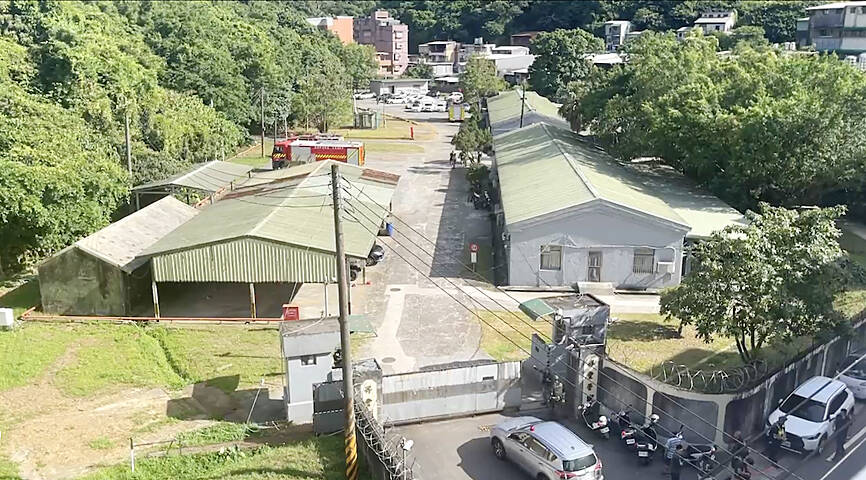 An ammunition depot at the Hsiang Feng Military Base in Keelung is pictured on Tuesday.
Photo: Lu Hsien-hsiu, Taipei Times
Lu headed to Hsiang Feng Market, accompanied by a crew from CTi TV News, to hear residents' opinions and a conversation she had with a local businessman spread online.
Lu spoke with local businessman Lai Wen-chung (賴文中), who grew up in the area and had served in the army.
Lai is also the owner of a ship repair company and an equipment supplier for marine transport vessels.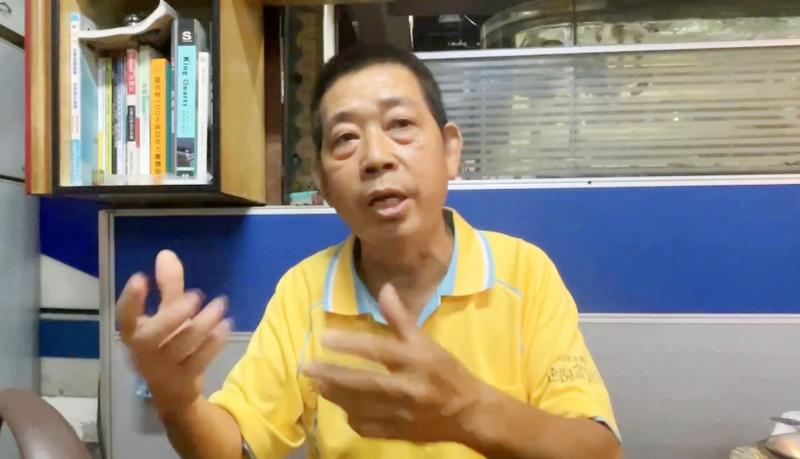 Keelung resident Lai Wen-chung makes a comment in a news interview, saying "the ammunition depot must stay, because we must fight against communist China."
Photo: Photo: Lu Hsien-hsiu, Taipei Times
Relocation is for the best, because "if the Chinese military starts firing, they will hit us here first," Lu said.
"We have mountains, so it is not easy to hit here," Lai said in response. "The depot is our protective shield, and Keelung now has no other place to relocate it to."
"The depot must stay, because we must fight against communist China," he said. "We cannot allow them to invade our country."
"Why do you want to have war?" Lu asked in response. "Just like the US and Ukraine, why do they want to fight a war?"
"It is not us... It is China that wants to wage war against us," Lai said, to which Lu replied that local people are in effect asking for China to attack.
"You are asking for it... If the Chinese military had plans to attack Taiwan, they would have done it earlier... If this happens, are you going to fight on the front line?" Lu asked.
"Sure, I will go fight against the Chinese communist troops," Lai said. "If our nation wants me, I will enlist."
"Is this city councilor a Chinese spy?" an online user commented on the video.
"Is Lu not aware that the military base and its depot were established by a past KMT government?" another user posted.
"Lu is stating the KMT's main refrain, that when China threatens with military invasion, it is because of provocations by Taiwan," Democratic Progressive Party Legislator Cheng Yun-peng (鄭運鵬) said in an online post.
The Ministry of National Defense in a news release yesterday said that the Hsiang Feng Military Base is important to the defense of northern Taiwan to supply munitions and weapons to troops in Keelung, Taipei and New Taipei City.
"Since 2009, the mandate has been issued to have ammunition storage at a safe distance from civilian housing as a safety precaution," the release said.
Additional reporting by Wu Su-wei
Comments will be moderated. Keep comments relevant to the article. Remarks containing abusive and obscene language, personal attacks of any kind or promotion will be removed and the user banned. Final decision will be at the discretion of the Taipei Times.