Shangri-La talks reveal China's worries: experts
Chinese Minister of National Defense Li Shangfu's (李尚福) focus on Taiwan at the Shangri-La Dialogue reflects Beijing's concern over the increasing international focus on cross-strait issues, two Taiwanese experts said.
In a speech at the annual security summit in Singapore on Sunday, Li said that the "Taiwan question" is a core interest and a Chinese internal affair that "brooks no interference from foreign forces."
Taking a thinly veiled jab at the US, Li complained about "countries" that raise tensions by repeatedly selling arms to Taiwan, providing it with military training and upgrading the level of official bilateral exchanges.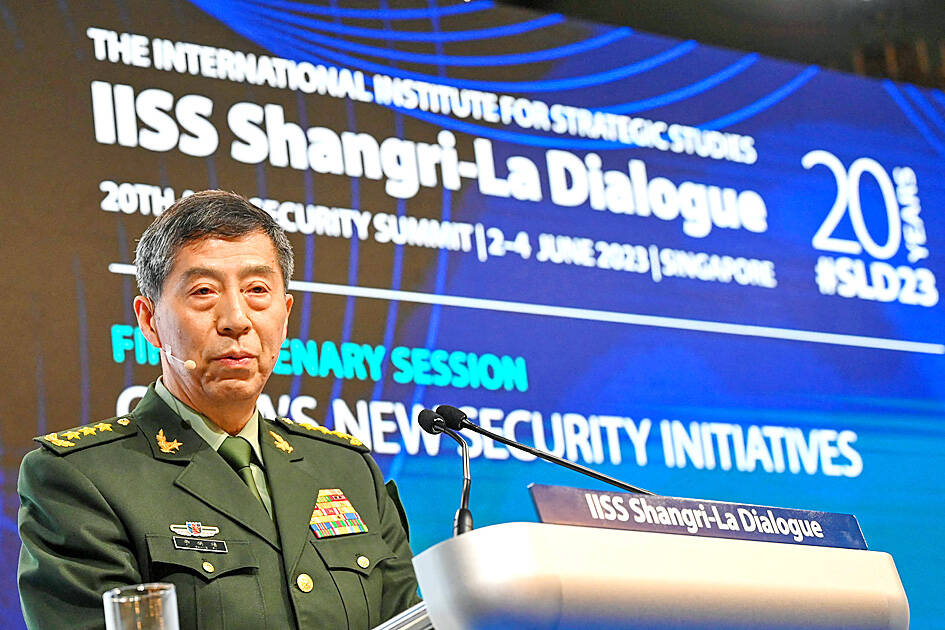 Chinese Minister of National Defense Li Shangfu delivers a speech at the Shangri-La Dialogue in Singapore on Sunday.
Photo: AFP
Beijing would not tolerate "attempts by Taiwan independence forces or external interfering forces that aim to separate Taiwan from China," he said.
Lai I-chung (賴怡忠), president of the Prospect Foundation think tank who represented Taiwan at the conference, said that Li's emphasis on Taiwan "reflects China's unease with the growing internationalization of the Taiwan issue."
Lai's view was echoed by Chong Ja Ian (莊嘉穎), associate professor of political science at the National University of Singapore.
Li's speech was largely similar to those given by other senior Chinese officials, with the exception of his "lengthy discourse" on Taiwan, Chong said.
The reason for that might be the increasing international focus on cross-strait issues, he said, adding that Beijing opposes this trend, and hopes to use such forums to convince the world to treat anything regarding Taiwan as an internal Chinese matter.
During the conference, which ran from Friday to Sunday, interactions between Li and US Secretary of Defense Lloyd Austin were also closely watched.
Austin and Li shook hands at the opening of the conference, and participated in a ministerial roundtable together, which Chong said indicated some level of goodwill.
Austin's speech balanced themes of cooperation and deterrence in relation to China, and was more "moderate" than the one he delivered last year, Chong said.
"From this year's Shangri-la Dialogue it was clear that the US and China still have very different starting points, and since neither side made any concessions, the tense state of relations is likely to continue," he said.
Comments will be moderated. Keep comments relevant to the article. Remarks containing abusive and obscene language, personal attacks of any kind or promotion will be removed and the user banned. Final decision will be at the discretion of the Taipei Times.