Lai apologizes for DPP's handling of sexual misconduct
'ZERO TOLERANCE': The vice president reiterated the steps that are being taken, while President Tsai Ing-wen and former DPP chairman Cho Jung-tai also apologized
Vice President and Democratic Progressive Party (DPP) chairman William Lai (賴清德) yesterday encouraged victims of sexual misconduct to speak up, and again apologized to them and the public for the party's mishandling of such complaints, after a recent spate of allegations by former party staffers.
Reiterating the key reforms he had raised the day before, Lai said the party has a "zero tolerance" policy regarding sexual misconduct.
The DPP would set up an office to take complaints and a mailbox for people who would rather remain anonymous, conduct an internal investigation and provide counseling and legal assistance to victims, he said.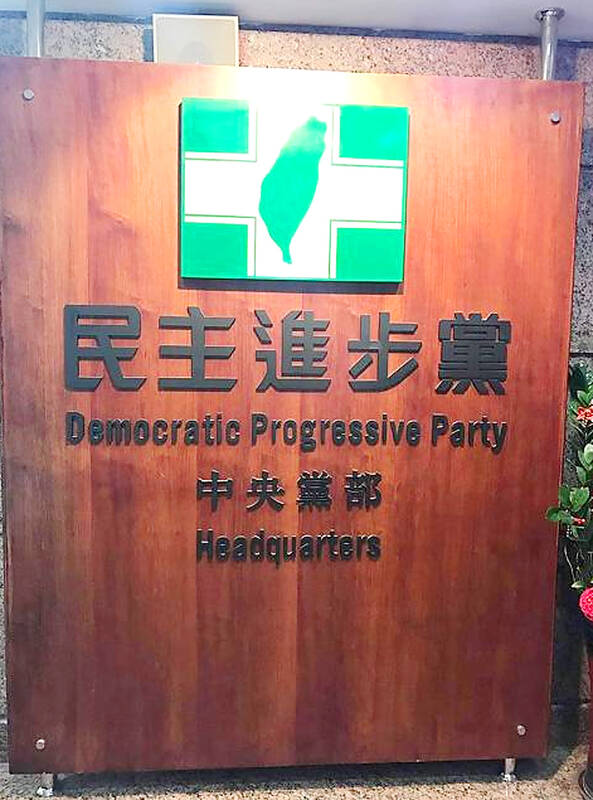 The Democratic Progressive Party logo is displayed at the party's headquarters in Taipei in an undated photograph.
Photo: Su Fun-her, Taipei Times
Former DPP chairman Cho Jung-tai (卓榮泰) issued an apology on social media.
"I offer my apology to these victims having the courage to speak up about their experiences. Please give the DPP the opportunity to make amends," said Cho, who led the party from 2019 to 2020.
"I ask all party members to work together with Lai to implement his reforms, and for everyone to learn from these revelations, be prudent in their words and behavior ... [and] strive for our party's core values," he said.
President Tsai Ing-wen (蔡英文) on Friday night wrote on social media that "as a former party chairperson, I should bear full responsibility."
"I would like to sincerely apologize to the victims [of sexual harassment] and the public," said Tsai, who served as DPP chairperson from May 2014 to November 2018 and from May 2020 to November last year.
Tsai's comments followed the exposure of three cases involving alleged sexual misconduct between 2018 and last year, and accusations that mid-level party officials mishandled the complaints.
Meanwhile, an alliance of former Sunflower movement leaders headed by Taipei City Councilor Miao Po-ya (苗博雅) of the Social Democratic Party, and DPP Legislator Lai Pin-yu (賴品妤) yesterday issued a statement offering legal support to victims, while condemning those who had positions of authority and intimidated lower-ranked party workers.
"The justice system must not become a tool to suppress victims who are at an disadvantage. Now that sexual misconduct incidents are in the spotlight, and we will push for real reform, and to create a safer environment for people working in politics," the alliance said.
Along with Miao and Lai, the statement was signed by others affiliated with the Sunflower movement, including former New Power Party spokesman Wu Cheng (吳崢), DPP Taipei City Councilor Wu Pei-yi (吳沛憶), independent Kaohsiung City Councilor Huang Jie (黃捷), Taipei City Councilor Lin Liang-chun (林亮君) and Miaoli County Councilor Tseng Wen-hsueh (曾玟學).
"We will set up a team of lawyers to assist victims with professional advice, and provide support, for them to fight ... against those who hold power," the statement said.
Additional reporting by CNA
Comments will be moderated. Keep comments relevant to the article. Remarks containing abusive and obscene language, personal attacks of any kind or promotion will be removed and the user banned. Final decision will be at the discretion of the Taipei Times.