Kaohsiung fines Costco again over frozen berries
MORE WARNINGS: If the US company does not clarify and solve issues with its frozen berries, the FDA might extend an import suspension implemented last month, it said
The Kaohsiung Department of Health yesterday said it fined Costco NT$4.5 million (US$146,265) over contaminated frozen strawberries, while the Food and Drug Administration (FDA) said that although the US company had filed an improvement plan, an import suspension on frozen berries could remain.
Three types of frozen berry products imported and sold by Costco have tested positive for the hepatitis A virus since April.
The Kaohsiung health department previously fined Costco NT$300,000 for not providing the sales list of a contaminated batch of Kirkland Signature Three Berry Blend imported from Chile, in contravention of the Communicable Disease Control Act (傳染病防治法). It later fined the company NT$7.5 million over the same batch, for contravening the Act Governing Food Safety and Sanitation (食品安全衛生管理法).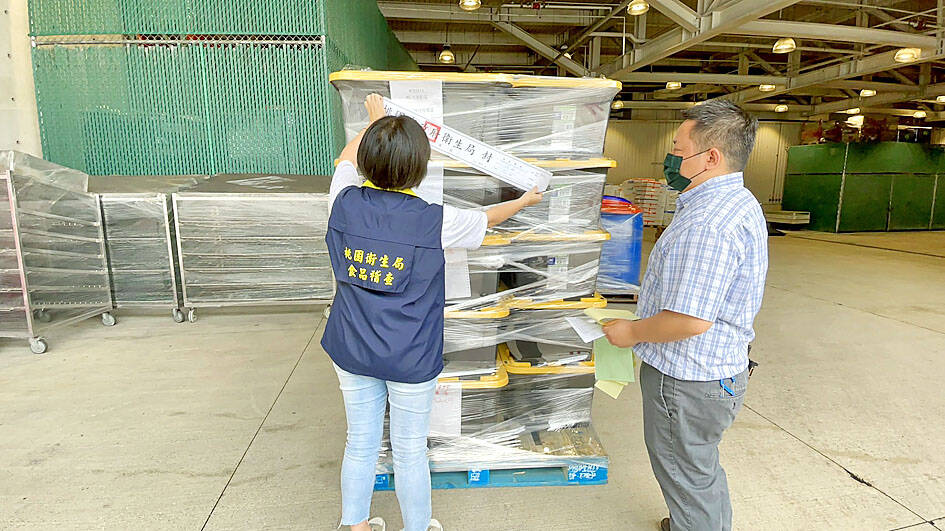 Food and Drug Administration officials seize packages of frozen berries found to be contaminated with the hepatitis A virus at a Costco store on May 17.
Photo: CNA
The health department said that it on Wednesday last week fined Costco NT$4.5 million for a batch of Kirkland Signature Grade A Fancy Strawberries imported from Mexico, which also tested positive for the hepatitis A virus.
FDA Southern Center Director Wei Jen-ting (魏任廷) said the health department imposed the most recent fine after assessing certain factors such as how many products have been imported and sold.
As the hepatitis A virus has been detected on Costco frozen mixed berries, frozen blueberries and frozen strawberries, the FDA had suspended the importation of the products between May 3 and Friday, and it also on May 1 launched an expanded random inspection program to test imported frozen berry products.
As of Tuesday, 77 items had been inspected, with one testing positive and 67 testing negative, while nine were still being tested, FDA Deputy Director Lin Chin-fu (林金富) said.
The FDA ordered Costco to submit an improvement report, explaining the source of contamination and its improvement plan, by midnight last night, he said.
Although Costco submitted the report yesterday, the FDA said that if the company does not clarify and solve the problem, the agency might not approve its inspection applications for imported frozen berries, meaning the import suspension would continue.
Comments will be moderated. Keep comments relevant to the article. Remarks containing abusive and obscene language, personal attacks of any kind or promotion will be removed and the user banned. Final decision will be at the discretion of the Taipei Times.