Reselling of Chinese devices illegal: NCC
Selling second-hand mobile phones and other communications devices that were made in China is illegal and subject to fines, the National Communications Commission (NCC) said on Sunday.
Mobile phones, Bluetooth headsets and smart watches made in China are often cheaper than similar products made elsewhere, and while they can be purchased online or while traveling overseas for personal use, it is illegal to resell them, the NCC said, citing its regulations regarding wireless signal transmitters.
"When a person buys these devices online, there is no violation, even if they have not been tested and approved in Taiwan," Department of Infrastructure section head Hsieh Chih-chang (謝志昌) said. "However, they are illegal to buy or sell second hand."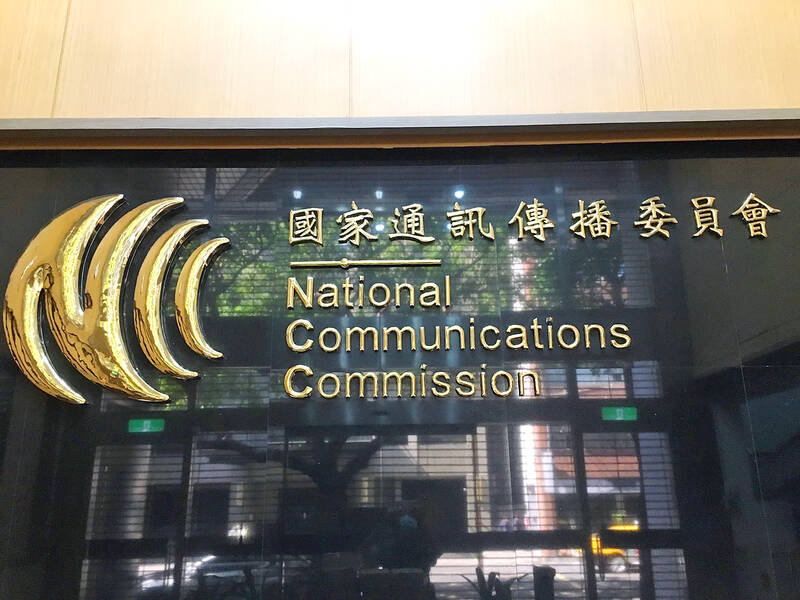 The National Communications Commission's name and logo are pictured on its building in Taipei in an undated photograph.
Photo: Yang Mien-chieh, Taipei Times
Since November last year, there have been fines totaling NT$260,000 imposed in 11 cases of illegal sales of unapproved telecommunications devices, NCC data showed.
Six people have been fined NT$25,000 each for illegal sales of such devices online, the data showed.
The NCC in collaboration with major online shopping platforms has implemented an approval process to sell mobile phones and related products, Hsieh said.
"People must not attempt to circumvent the approval process by using the details of another company, as that contravenes laws against forgery and is punishable up to four months in prison," he said.
"Even if a device purchased in a foreign country is the same model as devices sold in Taiwan, it cannot be resold in Taiwan," he said.
"The manufacturer's authorized dealer in Taiwan must apply for NCC approval," he said. "To protect their business rights, dealers should check online platforms and report to the NCC any instances of their products being resold without approval."
"Prospective buyers should check for the NCC's logo on product packaging to ensure they are approved," Hsieh said.
Addressing other matters, NCC Vice Chairman Wong Po-Tsung (翁柏宗) said that software and hardware labeled as being from "Taiwan, China" cannot be sold in Taiwan.
Devices must not denigrate Taiwan's status, so Chinese-made products that bear such labeling cannot be sold here, Wong said.
"Most Chinese firms' design and packaging for products destined for Taiwan are made to pass the NCC's approval process, but those purchased on Chinese shopping sites might be unapproved and have labeling that denigrates Taiwan's political status," he said.
There need to be negotiations with Chinese online shopping firms to develop solutions for such issues, he said.
Comments will be moderated. Keep comments relevant to the article. Remarks containing abusive and obscene language, personal attacks of any kind or promotion will be removed and the user banned. Final decision will be at the discretion of the Taipei Times.