Benefits might cover more foreigners
ONLINE PETITION: The foreign ministry is identifying the countries with the most residents in Taiwan to see if disability benefits could be extended to them
The government is deliberating whether to provide disability benefits to more foreign nationals in Taiwan in response to a petition calling for disability inclusion, a health official said on Friday.
The Ministry of Foreign Affairs is identifying the 10 countries with the most residents in Taiwan and ascertaining whether Taiwanese expats in those countries are entitled to disability benefits, said Chang Mei-mei (張美美), deputy head of the Social and Family Affairs Administration at the Ministry of Health and Welfare.
The administration, which is in charge of issuing disability certificates that provide holders with different types of benefits, consulted with the ministry on May 18 after the Crossroads nongovernmental organization last month launched a petition on a government-run platform urging equal access to disability benefits for foreign residents.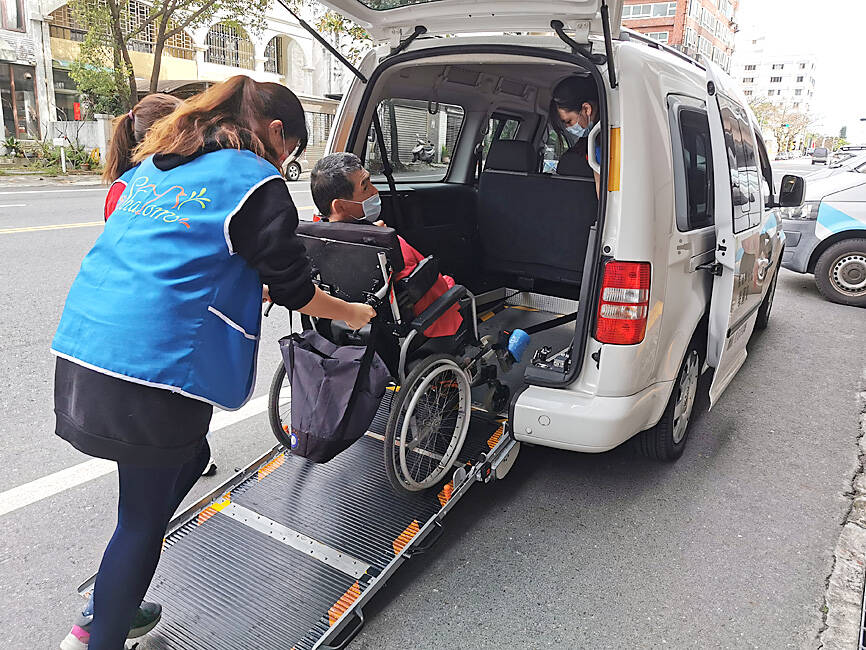 A person helps a man get in a wheelchair-accessible van in an undated photograph.
Photo courtesy of New Dawn Organization
The petition must collect 5,000 signatures by June 13 to require an official response from the health ministry.
It had collected 558 signatures as of 6pm yesterday.
Briton Michael Boyden, who has been living in Taiwan for 34 years, said he has atypical Parkinsonian disorder, but he is not granted home visits by medical professionals to evaluate his needs and not entitled to subsidies when purchasing assistive devices or benefits for respite care.
An anonymous US resident of Taiwan for 13 years wrote on the platform: "This is for my 4-year-old child born here [Taiwan] — she is unable to get a disability certification, making her ineligible for subsidies for travel to doctors [sic] appointments or medical equipment."
The petition urges the health ministry to revise its application rules to qualify foreign residents for a disability certificate in observance of the UN Convention on the Rights of Persons with Disabilities, which Taiwan incorporated into law in 2014.
In accordance with the convention and domestic law, the government is duty-bound to safeguard the rights and interests of all disabled individuals, Crossroads said.
Taiwan leads the world in many human rights and democracy indicators. However, not recognizing the disabilities of foreign nationals with a disability certificate and providing support is still an area that requires immediate improvement, the petition says.
Immigrants contribute their youth, experience, wisdom and energy to Taiwan — they pay taxes, contribute to the national revenue and start companies that hire local employees, it says.
"Taiwan cannot abandon them in the event they become disabled due to age, disease, an accident, or a genetic condition," the petition says.
Japan is the only country whose residents in Taiwan are eligible for a disability certificate, according to a government document issued in 1998 by the Ministry of the Interior.
Based on the principle of reciprocity, the government would issue disability certificates to foreign residents whose countries give Taiwanese the same protections, Chang said.
In Taiwan, a disability certificate is necessary to access disability benefits, including financial assistance for medical equipment or services, living allowances, special education resources and parking permits.
Comments will be moderated. Keep comments relevant to the article. Remarks containing abusive and obscene language, personal attacks of any kind or promotion will be removed and the user banned. Final decision will be at the discretion of the Taipei Times.