DGH ordered to compensate family of killed cyclist
The Supreme Court on Thursday rejected an appeal by the Directorate-General of Highways (DGH), which in December last year was ordered by the High Court to compensate the parents of a killed Japanese cyclist.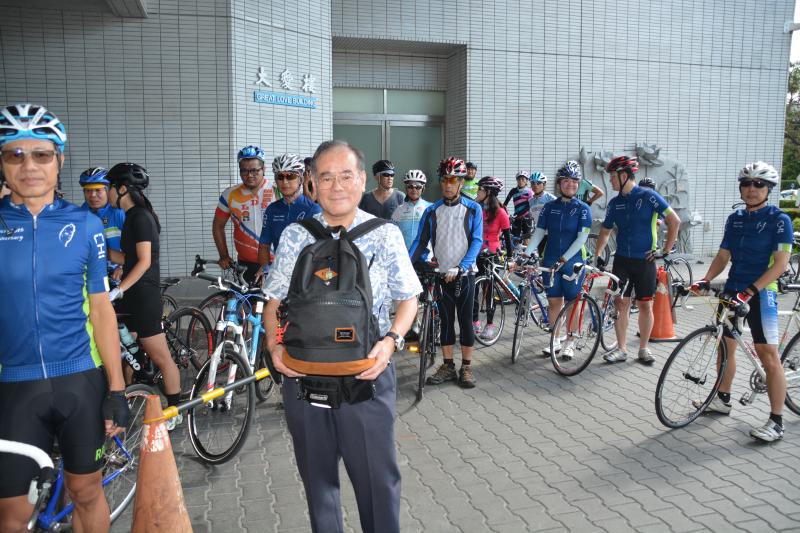 Cyclists gather in support of killed cyclist Hiroyuki Shirai's father, front second left, in front of the Hualien Tzu Chi Hospital in an undated photograph.
Photo: Wang Chun-chi, Taipei Times
Hiroyuki Shirai was killed by falling rocks in the Taroko National Park near the exit of a tunnel on the Central Cross-Island Highway, while preparing for a bicycle race in 2017. The incident happened near a scenic spot known as Jiuqudong, or the Tunnel of Nine Turns.
Shirai's parents sought compensation from the DGH on grounds that it had been negligent. The Yilan District Court in June 2020 ruled in favor of the DGH, reasoning that it had placed a warning sign that read: "Beware of falling rocks" and thus had fulfilled its duties.
On Dec. 30 last year, the High Court overturned the 2020 ruling and ordered the DGH to pay Shirai's parents NT$4.68 million in compensation, saying that the accident occurred in what is known to be a "high-risk" area, and that the agency was liable for "inadequate infrastructure," which it said led to the accident.
Thursday's ruling is final, and cannot be appealed.
Comments will be moderated. Keep comments relevant to the article. Remarks containing abusive and obscene language, personal attacks of any kind or promotion will be removed and the user banned. Final decision will be at the discretion of the Taipei Times.