Changes seek to extend non-military reservist training
Lawmakers have proposed amendments to rules governing alternative military service to enable former non-military conscripts to be recalled for reservist training.
The proposal was part of a legislative report reviewed by the Liberty Times (the Taipei Times' sister paper).
The National Conscription Agency drafted the report in response to criticism that the recall and training program for non-military conscripts was too short, summoned few people and did not impart relevant skills.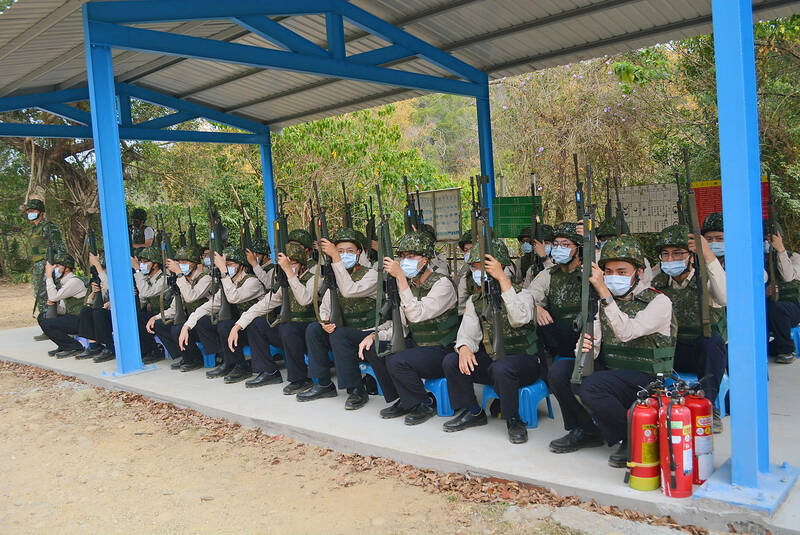 The first batch of non-military conscript reservists to train with live ammunition prepare for target practice on March 25 in Taichung.
Photo: Chen Chien-chih, Taipei Times
The agency recalled 2,958 former alternative service conscripts last year and increased that number to 4,000 this year, the ministry said in the report, adding that plans have been made to expand the training program on a yearly basis.
Citing the lawmakers' proposal, the agency said the amendments would expand the program to recall 10,000 former alternative service members for military and disaster response training for an extended period of four to five days.
The proposed amendments include penalties for dodging the recall and stipulations that require the program be funded by the Ministry of the Interior, rather than government organizations that draw personnel from alternative service, it said.
In 2021, Taiwan recalled 1,565 former alternative service conscripts for defense mobilization and disaster relief training out of 181,904 total former alternative service members enlisted over the previous eight years, according to a report by the Legislative Yuan's budget center.
This means only 0.86 percent of available personnel were utilized by the program.
The amendments appeared to be linked to the government's efforts to improve the nation's utilization of reservists following Russia's invasion of Ukraine.
Separately, the Ministry of National Defense has revealed that refresher training for former soldiers would be extended from between five and seven days to two weeks.
The refresher training would emphasize tactical proficiency and marching, and be conducted in the reservist unit's wartime area of responsibility.
An estimated 22,000 former military service members would take part in the new training program, while 96,000 would take part in the old program.
Comments will be moderated. Keep comments relevant to the article. Remarks containing abusive and obscene language, personal attacks of any kind or promotion will be removed and the user banned. Final decision will be at the discretion of the Taipei Times.