Cabinet approves road safety program
LONG-TERM: The program seeks to remove road obstacles, mark designated lanes, improve pedestrian crossings and hold local governments to account for road safety
The Executive Yuan yesterday approved a pedestrian safety program for legislative review to improve road safety across the nation.
The "Pedestrian First, Traffic Safety Action Program," together with the seven-year Sustainable Improvement of Traffic Safety Project and the Forward-looking Infrastructure Development Program, is to see NT$66.48 billion (US$2.16 billion) set aside for improvements to road safety.
It would improve pedestrian safety facilities at 4,601 crossings and across 80km of sidewalks, Ministry of the Interior Construction and Planning Agency Deputy Director-General Yu Wang-sheng (於望聖) said.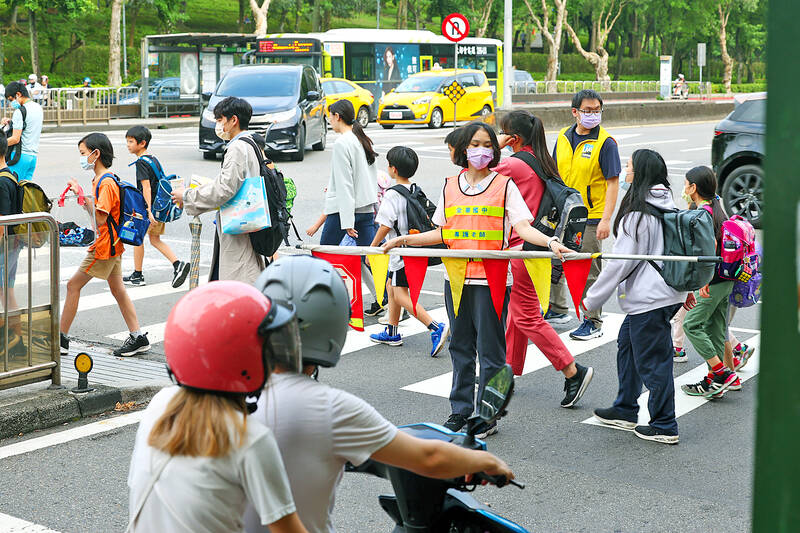 A crossing guard helps children cross the street in Taipei's Daan District yesterday.
Photo: CNA
The program seeks to remove obstacles at 161 locations, mark designated pedestrian lanes on more than 30.35km of road, ameliorate road safety around 615 schools and 514 crossings that are prone to accidents, establish 25 elderly-friendly areas where traffic speed would be limited to 30kph, reduce roadside obstacles in 522 locations, and improve safety at 524 crossings without signals, Yu said.
Pedestrian safety could only be improved by continued policy implementation and funding, he added.
In addition to the already implemented Amelioration of Traffic and Road Safety Around Schools Project, which has a budget of NT$5 billion, Yu said that the agency was also planning the Sustainable Improvement of Traffic Safety Project, which has budget of NT$40 billion.
Local governments must step up efforts to investigate what roads are in immediate need of improvement, Yu said, adding that the central government would provide assistance based on the reports to improve the transportation environment across the nation.
The Executive Yuan said it would rank local governments based on the improvements they have made every month and make the information public.
The Ministry of Transportation and Communications said that it has established standards to determine the progress of amelioration projects, including a weekly inspection of such efforts conducted by local governments from this month to July.
Pedestrian safety would be taken into account during the annual evaluation of local governments' traffic safety performance, the transportation ministry said.
Amendments to the Road and Traffic Safety Lecture Regulations (道路交通安全講習辦法), expected to be passed next month, would make it compulsory for all new drivers to attend traffic safety lectures.
Cabinet spokesman Alan Lin (林子倫) said the government is fully committed to making Taiwan's roads safe for pedestrians.
Directorate-General of Highways Director Chen Wen-juei (陳文瑞) said the agency would crack down on repeat traffic offenders, for example by requiring frequent renewals of their driver's licenses.
Additional reporting by CNA
Comments will be moderated. Keep comments relevant to the article. Remarks containing abusive and obscene language, personal attacks of any kind or promotion will be removed and the user banned. Final decision will be at the discretion of the Taipei Times.