People should still conserve water, despite rain: WRA
People should still conserve water despite recent downpours, which have eased a shortage, as rainfall forecasts for the plum rain season are uncertain, the Water Resources Agency (WRA) said in a press release yesterday.
The public is urged whenever possible to reduce water use amid ongoing challenges brought about by climate change, the WRA told a meeting with officials from water and river management district offices, the statement said.
Agency data showed that from 7am on Wednesday to 7am yesterday 5.8 million cubic meters of water was added to reservoirs nationwide, with a considerable amount flowing into the Zengwen (曾文水庫) and Wushantou reservoirs (烏山頭水庫) in Tainan.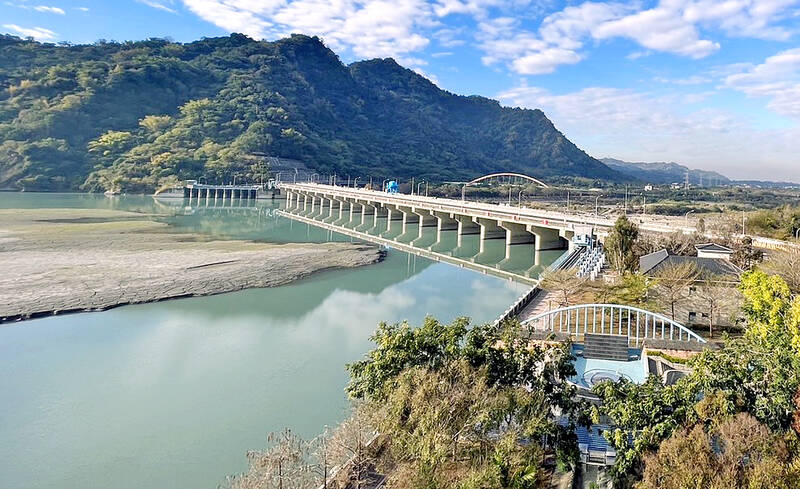 The Sun Moon Lake Reservoir is pictured in Nantou County in an undated photograph.
Photo: Taipei Times
However, as of 6pm yesterday, the Zengwen Reservoir was at only 7.96 percent of capacity, while the Renyitan Reservoir (仁義潭水庫) in Chiayi County and the Nanhua Reservoir (南化水庫) in Tainan were at 26.31 and 23.48 percent respectively, the data showed.
Taoyuan's Shihmen (石門水庫), New Taipei City's Feitsui (翡翠水庫) and Hsinchu County's Second Baoshan (寶山第二水庫) reservoirs were at 36.6, 52.28 and 84.05 percent respectively, the data showed.
Miaoli County's Liyutan (鯉魚潭水庫), Taichung's Deji (德基水庫) and Nantou's Sun Moon Lake (日月潭) reservoirs were at 52.12, 53.95 and 81.44 percent respectively, the data showed.
The WRA said it would continue to cooperate with the Irrigation Agency and local governments to adjust supply for crop irrigation ahead of the summer harvest based on rainfall levels.
Meanwhile, the WRA reminded local governments to check flood control measures with Typhoon Mawar moving closer to Taiwan.
Ditches should be cleared to prevent blockages that could result in flooding in the event of heavy rain, it said.
Comments will be moderated. Keep comments relevant to the article. Remarks containing abusive and obscene language, personal attacks of any kind or promotion will be removed and the user banned. Final decision will be at the discretion of the Taipei Times.