Speed record achieved with ITRI-developed self-driving shuttle
The highest-speed test to date of a self-driving car developed by the Industrial Technology Research Institute (ITRI, 工研院) was successfully conducted at Taiwan Taoyuan International Airport Wednesday, ITRI said Thursday.
The self-driving shuttle, which drove at 50 kilometers per hour, is part of a four-year project to develop autonomous shuttles for the country's international airports, ITRI said, adding that it is to invest "at least NT$5 billion" into the project.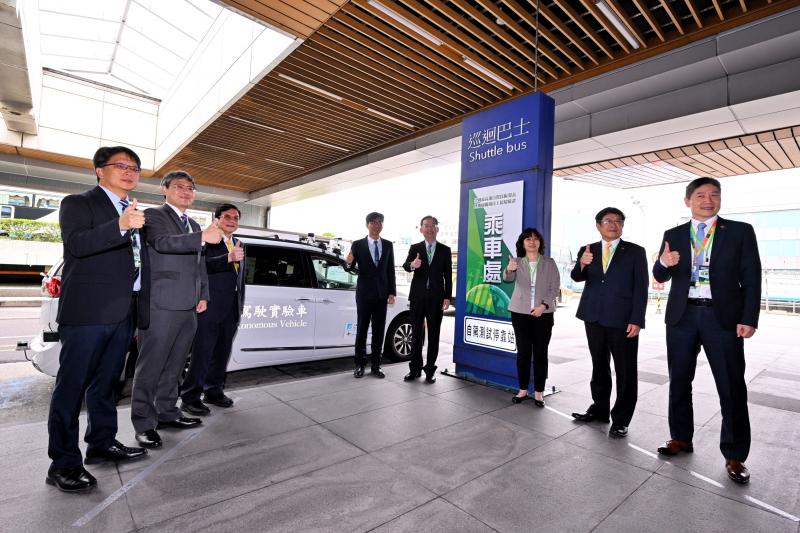 Officials from the Ministry of Economic Affairs and the Industrial Technology Research Institute on Wednesday pose for a photograph with an ITRI-developed self-driving car.
Photo: CNA
This week's test drive reached a speed record that was the fastest achieved to date by a self-driving car in Taiwan, and second worldwide only to shuttles operating at Phoenix Sky Harbor International Airport in Phoenix, Arizona, Department of Industrial Technology Director-General Chiou Chyou-huey (邱求慧) said.
The shuttle is being run on a 4.2km circuit, and is assisted by 5G-connected safety systems, he said.
"In the future, higher-speed self-driving will be implemented on open roads such as expressways or highways. " he said.
"There have already been 15 test cases on open roads in Taiwan."
Future challenges to implementing widespread autonomous driving included the implementation of relevant regulations, and devising technical solutions to more complicated road conditions, he said, adding that 5G-connected smart technology at intersections would improve the safety of self-driving vehicles.
Comments will be moderated. Keep comments relevant to the article. Remarks containing abusive and obscene language, personal attacks of any kind or promotion will be removed and the user banned. Final decision will be at the discretion of the Taipei Times.