Taichung police reprimanded for failure to investigate drugs complaint
Police officers in Taichung's Dali District (大里) are to be reprimanded after failing to properly investigate a public complaint that a group of people were using drugs in a parking lot, a city councilor said yesterday.
Police received a complaint from a resident at 2:21am on Monday saying that a group of five young people were using narcotics in a parking lot in the district. When police arrived at the location, they drove around the outside of the parking lot, but did not enter, which prompted a follow-up complaint to the city government, Taiwan People's Party Taichung City Councilor Chiang Ho-shu (江和樹) said.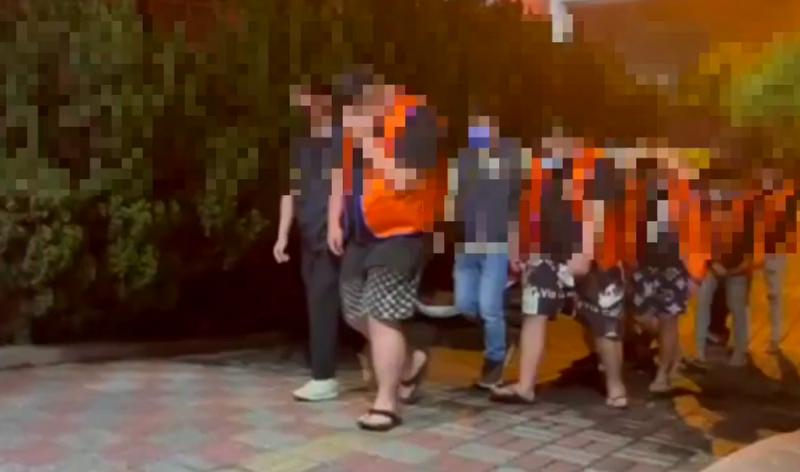 Police on Wednesday escort suspects arrested on suspicion of using illegal drugs.
Photo: CNA
The Taichung City police department on Wednesday launched an investigation, including a review of footage from security cameras in the parking lot.
Following the investigation, police arrested five men and one woman, police said, adding that the five men confessed to having used ketamine in the parking lot on Monday.
Police said that video recorded on a cellphone provided to them by a member of the public during their investigation allegedly showed one person snorting a white substance off of the rear trunk of a red car, while others rolled and smoked cigarettes with the substance.
The parking lot cameras showed the group leaving the lot at 2:48am, police said.
After making the arrests, police collected urine samples and sent them to Taichung District Prosecutors, police said.
Chiang said that the police officers at Taichung's Guoguang Police Station (國光派出所) on the district's Yongda Street who received the original report had failed in their duties by not entering the parking lot to properly investigate, and not contacting the person who made the report to follow up.
The city said the officers would receive warnings and further training.
Comments will be moderated. Keep comments relevant to the article. Remarks containing abusive and obscene language, personal attacks of any kind or promotion will be removed and the user banned. Final decision will be at the discretion of the Taipei Times.