Sun Moon Lake, Wushe reservoirs near capacity following rain
The Sun Moon Lake reservoir is at 81.44 percent capacity following recent rainfall, the Central Region Water Resources Office said Thursday.
On Wednesday the lake was at 78.1 percent capacity, but the water level continues to rise with ongoing rain, it said, adding that the statue of nine stacked frogs at the lake – which is used as a visual indicator of the water level – is now partially submerged for the first time in several months.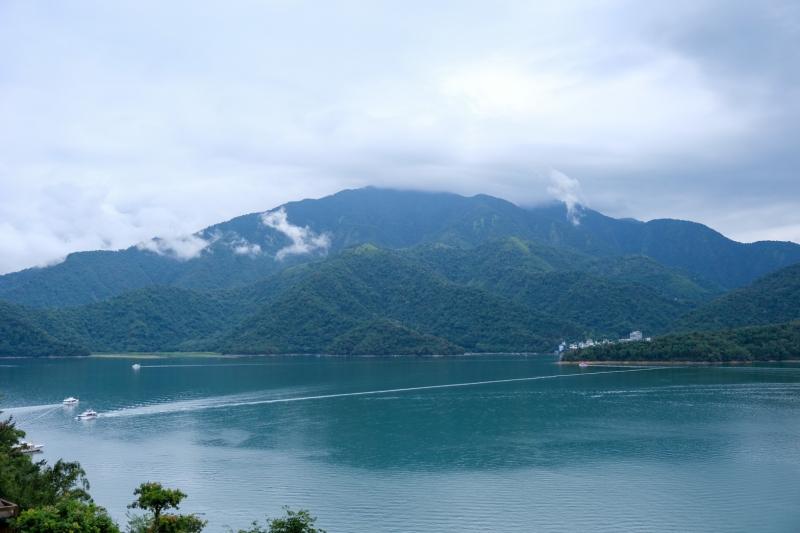 Sun Moon Lake is pictured on Tuesday.
Photo courtesy of reader
Water capacity at the lake increased by 31.27 million metric tons since May 11, of which 17.17 million metric tons entered the lake in the past week alone, it said.
The nearby Wushe Reservoir has also reached 62.68 percent capacity, which equates to 23.08 million metric tons of water, it said.
However, residents of Nantou County were still asked to use water conservatively, since water needs for crop irrigation would be high with the approaching summer, and rainfall levels would be uncertain in the coming months, it said.
Comments will be moderated. Keep comments relevant to the article. Remarks containing abusive and obscene language, personal attacks of any kind or promotion will be removed and the user banned. Final decision will be at the discretion of the Taipei Times.