Official slams Highwealth's safety record
FINES NOT WORKING? The construction company has been ordered to shut its sites many times over the past five years, but it does not seem to care, a lawmaker said
Highwealth Construction's record over the past five years shows that its corporate culture "does not prioritize occupational safety," Deputy Minister of Labor Lee Chun-yi (李俊俋) said yesterday.
Lee made remarks at a meeting of the legislature's Social Welfare and Environmental Hygiene Committee, where he briefed lawmakers on how the ministry plans to address a labor shortage in the post-COVID-19 pandemic era and reduce workplace accidents.
The Taipei-based construction firm came under scrutiny after a Taichung MRT train on Wednesday last week crashed into a crane boom that fell onto the tracks from the company's construction site near the line, killing one person and injuring 10.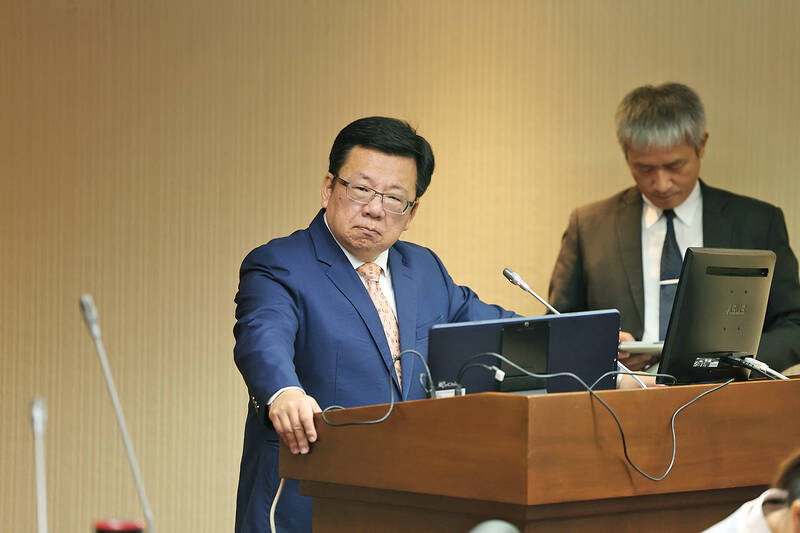 Deputy Minister of Labor Lee Chun-yi speaks at a meeting of the legislature's Social Welfare and Environmental Hygiene Committee in Taipei yesterday.
Photo: CNA
Highwealth Construction has been ordered to partially shut down its sites multiple times over the past five years for contravening occupational safety regulations, but the company did not seem to care being repeatedly penalized, Democratic Progressive Party Legislator Lai Hui-yuan (賴惠員) said.
Lai asked whether the ministry has investigated problems with Highwealth Construction's operations.
The ministry has fined Highwealth NT$14 million (US$455,048) for last week's incident, but New Power Party Legislator Claire Wang (王婉諭) said that the punishment is light for a construction firm.
"An apartment in Taipei costs more than NT$14 million. I propose that the fines be calculated based on a fixed percentage of its housing sales revenue, as stated in the Fair Trade Act (公平交易法)," Wang said.
Five Highwealth Construction subsidiaries were found to have contravened occupational safety regulations during the 56 inspections the ministry has conducted over the past five years, Lee said.
"It is a clear indicator that Highwealth Construction's corporate culture does not prioritize occupational safety," Lee said.
Last week's incident was caused by the failure of workers to operate the tower crane based on standardized procedures, not by mechanical issues, the ministry's investigation showed.
The ministry plans to complete labor inspections at 30 sites managed by Highwealth Construction within two weeks, Lee said.
"We also plan to inspect its construction sites that have tower cranes within one month," he said.
The Construction and Planning Agency, which regulates construction firms, would be alerted about those that frequently contravene occupational safety regulations, Lee said, adding that the agency could place them on a watchlist or require them to stop work.
The fine handed down to Highwealth Construction was quite high compared with those issued in other cases, Lee said.
"The Act for Protecting Workers from Occupational Accidents (職業災害勞工保護法) applies to large and small construction firms. We must consider how the penalties would affect small contractors or those that have an accident for the first time," he said. "There might be a change to allow increased fines for repeat offenders."
Comments will be moderated. Keep comments relevant to the article. Remarks containing abusive and obscene language, personal attacks of any kind or promotion will be removed and the user banned. Final decision will be at the discretion of the Taipei Times.