G7 urged to deter military action against Taiwan
The G7 should not shrink from making explicit plans to deter military action or other coercive measures Beijing might contemplate taking against Taiwan, the Inter-Parliamentary Alliance on China (IPAC) said in a statement on Monday.
The communique of the international consortium should "not shy away from the need for coordinated deterrence," it said, adding that the group must make clear that "escalated aggression against Taiwan will cost Beijing dearly."
Lawmakers from Australia, Canada, the Czech Republic, Estonia, Japan, the Netherlands, Ukraine and the UK were among the IPAC members who signed the statement.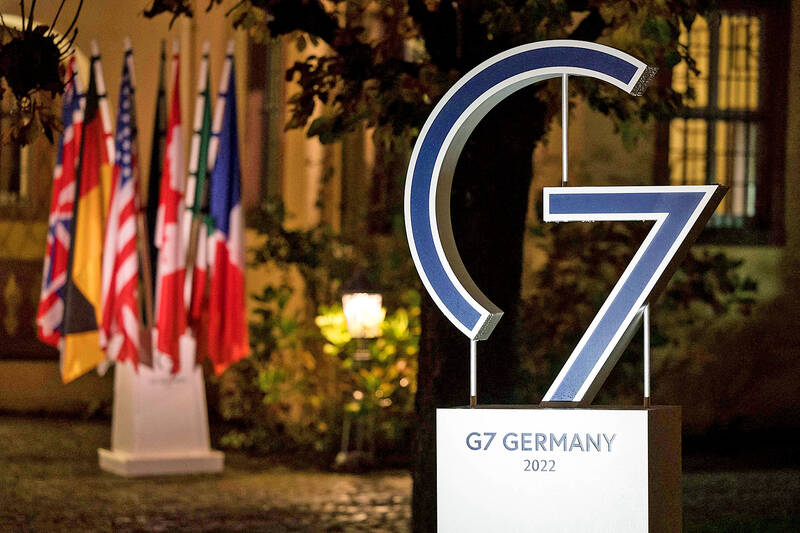 A G7 logo and national flags are pictured during a G7 Interior Ministers Meeting in Oestrich-Winkel, Germany, on Nov. 17 last year.
Photo: AFP
The G7 should reassert its "firm opposition to any unilateral change" to the "status quo" across the Taiwan Strait, emphasize Taiwan's importance to the global economy and deter Beijing from belligerent actions, it said.
The international body should acknowledge that instability in the South China Sea would have a significantly negative effect on the world economy and ensure that efforts to de-risk the global supply chain take the situation in the region into account, it said.
The G7 was additionally called upon to reduce overdependency on China, increase supply chain and energy resilience, improve labor standards, counter cybersecurity threats, cybertheft and disinformation, and oppose "transnational repression" emanating from China, the group said.
"G7 countries [should] coordinate their efforts to investigate and expose China's transnational repression, including by sharing information, coordinating sanctions, and supporting civil society groups and human rights defenders who are working to document and counter these abuses," it said.
The G7 was called upon to "work with other like-minded partners to pressure China to end its transnational repression by raising these issues in multilateral fora," IPAC said.
Beijing's "no limits" friendship with Moscow amid Russian President Vladimir Putin's invasion of Ukraine cast doubt on China's commitment to "the foundational principles of the international rules-based system," it said.
Chinese entities and individuals should be monitored for providing aid to Russian aggression and sanctions invoked if necessary, it added.
Comments will be moderated. Keep comments relevant to the article. Remarks containing abusive and obscene language, personal attacks of any kind or promotion will be removed and the user banned. Final decision will be at the discretion of the Taipei Times.