Flotilla calls at Marshall Islands for national day
Marshall Islands Minister of Foreign Affairs and Trade Kitlang Kabua and Deputy Minister of Foreign Affairs Tien Chung-kwang (田中光) yesterday welcomed a port call by Taiwan's "Friendship Flotilla" as it arrived in the Pacific archipelago.
Tien arrived in the nation on Saturday for a five-day visit. He is acting as a special envoy of President Tsai Ing-wen (蔡英文) to celebrate the 44th anniversary of the archipelago's independence from the US and the 25th year of its establishment of diplomatic ties with Taiwan.
The flotilla consists of the AOE 532 Panshi fast combat support ship, the Kang Ding-class frigate Cheng De and the Cheng Kung-class frigate Pan Chao.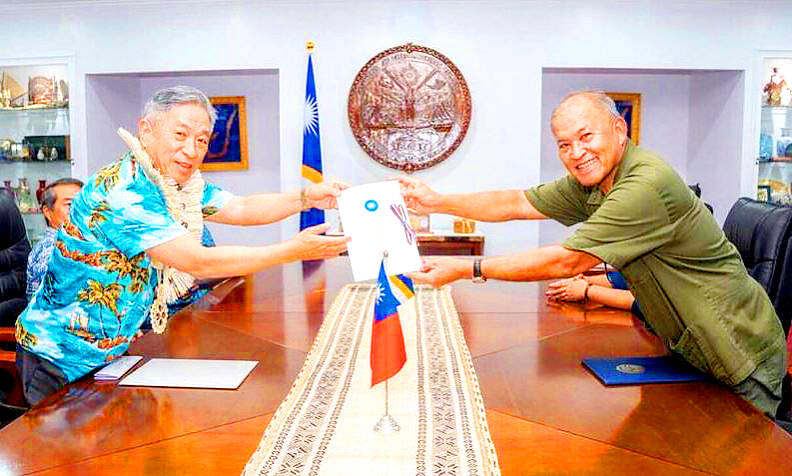 Deputy Minister of Foreign Affairs Tien Chung-kwang, left, presents his credentials to Marshall Islands President David Kabua in the Marshall Islands on Saturday.
Photo courtesy of the Ministry of Foreign Affairs
The ships departed Taiwan in March and visited Palau last month before heading to the Marshall Islands to celebrate Constitution Day today.
The navy in 1996 began dispatching flotillas to friendly nations as a means of naval training, as well as to promote military exchanges, raise the country's profile in the international community, and visit allies and overseas Taiwanese.
Tien on Saturday met with Marshall Islands President David Kabua and other senior officials to discuss issues of mutual interest. During his trip, Tien is also to host a commemorative reception to mark the anniversary of the establishment of diplomatic ties with the Marshall Islands.
Comments will be moderated. Keep comments relevant to the article. Remarks containing abusive and obscene language, personal attacks of any kind or promotion will be removed and the user banned. Final decision will be at the discretion of the Taipei Times.