Lawmaker calls for light-pollution laws
LIGHTING STANDARDS: Reducing excessive light can contribute to the goal of net zero carbon emissions while also improving people's health, a legislator said
Taiwan should adopt legislation similar to that of other countries to combat light pollution, New Power Party Legislator Chen Jiau-hua (陳椒華) said jointly with the Taiwan Dark-Sky Association on Saturday.
Since 2015, there have been about 2,300 annual cases of light pollution reported to authorities in Taipei and New Taipei City, she said.
However, while the nation has the Air Pollution Control Act (空氣污染防制法) to regulate air pollution, and the Noise Control Act (噪音管制法) to handle noise complaints, it has no laws to deal with light pollution, she said.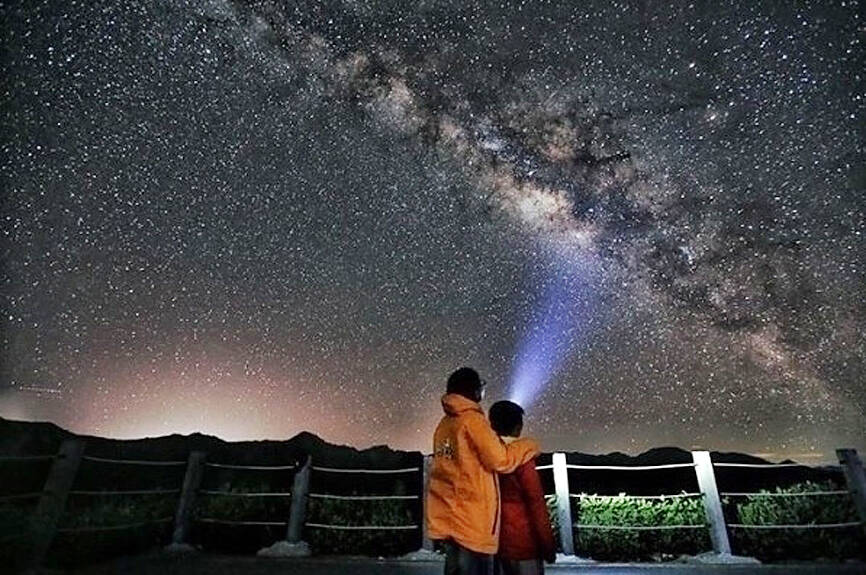 People admire a starry night on Hehuanshan in Nantou County in an undated photograph. Hehuanshan has been designated as the nation's first international dark sky park by the International Dark-Sky Association.
Photo courtesy of the Cingjing Tourism Association
"The Environmental Protection Administration (EPA) promulgated guidelines for preventing light pollution in 2021, but there are no legal or administrative implications for those guidelines," she said.
"The EPA has a negative attitude toward the issue," she added.
International Dark-Sky Association executive director Ruskin Hartley said that tackling light pollution is a global trend.
Hartley, who recently visited Lienchiang County, cited local bylaws there that prevent light pollution as an example of this trend.
However, even there, people face hundreds of Chinese fishing boats that traverse nearby waters from June to October every year, using bright lights while fishing at night, he said.
Too much light is a waste of energy and also negatively impacts nearby ecology, Taiwan Dark-Sky Association chairman Axiou Lin (林正修) said.
"Excessive light can even impact people's health, and things like the brightness and type of light, and the angle of light installations are all things that need attention," he said.
"I hope the government can give the issue more serious thought," he added.
Introducing legislation to tackle light pollution would also help the government reach its net zero carbon emissions goal, by using energy more efficiently, Chen said, adding that this could be done through the use of more energy-efficient lighting.
Chen said she asked the EPA to deliberate with government ministries, non-governmental organizations and experts on possible legislation to tackle light pollution, and to come up with a proposal within three months.
She also asked the Construction and Planning Agency to discuss possible changes to building standards to require more efficient lighting in all new buildings, the Directorate General of Highways to discuss more efficient street lighting, and the Council of Agriculture to look into more efficient lighting for fishers, she said.
The Bureau of Standards could consult with the International Commission on Illumination or other international standards to help it draft lighting standards for Taiwan, she said.
Comments will be moderated. Keep comments relevant to the article. Remarks containing abusive and obscene language, personal attacks of any kind or promotion will be removed and the user banned. Final decision will be at the discretion of the Taipei Times.