Beijing denies imposing no-fly zone off Taiwan
'INACCURATE': China said the hype around its space activities is a political trick and an attempt to escalate confrontation across the Taiwan Strait
China yesterday denied that it had imposed a no-fly zone in the seas north of Taiwan for tomorrow, even though Taipei said it was told by Beijing that China would impose one.
The Ministry of Transportation and Communications said that Beijing had initially notified Taipei it would impose a no-fly zone from tomorrow to Tuesday, but later said that was reduced to just 27 minutes tomorrow morning after it protested.
However, Chinese Ministry of Foreign Affairs spokesman Wang Wenbin (汪文斌) seemingly contradicted that claim in remarks at a regular media briefing yesterday.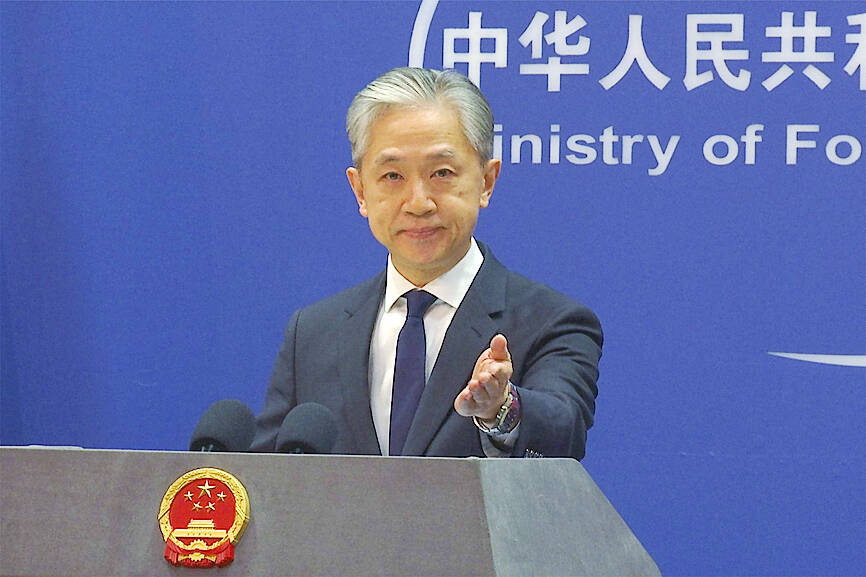 A screen grab shows Chinese Ministry of Foreign Affairs spokesman Wang Wenbin during a media briefing at the ministry's office in Beijing on March 14.
Photo: AP
"I have noticed that there were previous reports pointing out that the no-fly zone was set up by the Chinese side, which is inaccurate. The relevant authorities will implement measures to ensure flight safety," Wang said.
China's civil aviation authority would forewarn and issue notices in advance for any space activities, Wang said.
However, Taiwan has already issued a notice to airmen, or NOTAM, that says "airspace blocked due to aerospace flight activity."
The area covers busy flight routes between Taiwan and China and Taiwan and South Korea, among others.
On Thursday, the China Maritime Safety Administration said that potential rocket debris would fall in the East China Sea tomorrow between 9am and 3pm, and banned shipping vessels from the area.
"Relevant parties in the mainland have issued advance notices and announcements of space activities affecting the airspace," China's Taiwan Affairs Office said in a statement yesterday.
The hype around China's space activities is a political trick, and an attempt to escalate cross-strait confrontation, Taiwan Affairs Office spokeswoman Zhu Fenglian (朱鳳蓮) said in the statement.
On Wednesday, an airline association said its individual member airlines would cover the costs incurred from China's imposition of the no-fly zone if they are forced to reroute.
Wang Kuo-an (王國安), chairman of the 50-member Airlines Operating Committee, said that a limited number of flights would be affected by the airspace restrictions between 9:30am and 9:57am.
In addition, members of the Taiwan Taoyuan International Airport-based committee are willing to cooperate and absorb extra costs to protect their own assets if forced to reroute, Wang said.
Flights to and from Japan, South Korea and the US could be affected, as the zone sits at a critical juncture for flights between Southeast Asia and the western Pacific, Wang said.
Comments will be moderated. Keep comments relevant to the article. Remarks containing abusive and obscene language, personal attacks of any kind or promotion will be removed and the user banned. Final decision will be at the discretion of the Taipei Times.