Tsai, Pavel might meet face to face: Czech speaker
SECURITY PARTNER: The Czech delegation signed several MOUs with local institutions and another pledging to cooperate in the defense of democracy and freedom in Taiwan
President Tsai Ing-wen (蔡英文) and Czech President Petr Pavel might meet face-to-face at international meetings attended by both leaders, Czech Chamber of Deputies Speaker Marketa Pekarova Adamova said yesterday.
She made the remark at a news conference at the Ministry of Foreign Affairs in Taipei before she and her delegation departed from Taiwan, in response to a question about the possibility of Tsai and Pavel meeting at the 27th Forum 2000 Conference in Prague later this year.
Adamova said that although she cannot speak for Pavel, senior Czech officials have shown unanimous support for Taiwan.
Czech president-elect Petr Pavel, left, and President Tsai Ing-wen are pictured in a composite image.
Photo: EPA and Taipei Times
Tsai congratulating Pavel upon his election was an indication of the direction the future might take, she added.
According to Czech-language media, Pavel on Tuesday told a panel of students that a presidential visit might elicit a stronger negative response from Beijing — including punitive economic measures — than one by lawmakers.
While the Czech Republic follows the "one China" policy and has never questioned China's territorial integrity, the nation has a right to develop ties with any party it wishes to, he said, adding that nothing can stop him from speaking with Tsai at a neutral international event or forum.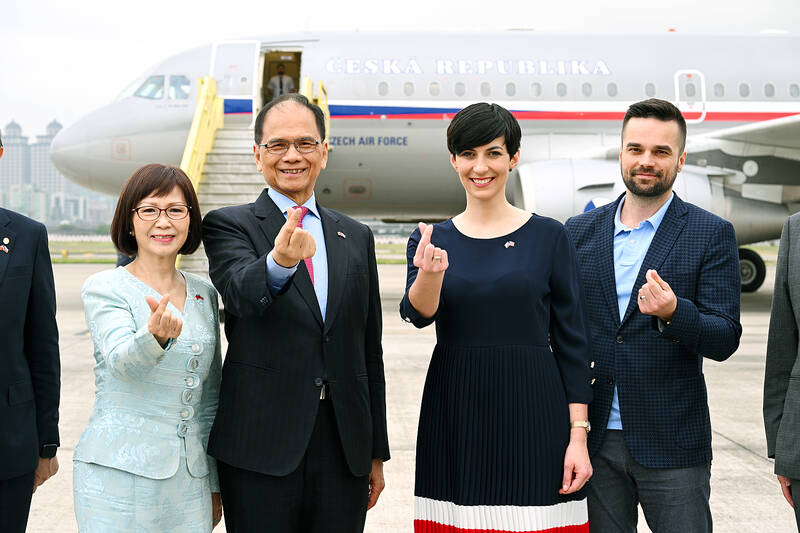 Czech Chamber of Deputies Speaker Marketa Pekarova Adamova, second right, yesterday poses with Legislative Speaker Yu Si-Kun, second left, at Songshan Airport before her departure from Taipei.
Photo: Tian Yu-hua, Taipei Times
Tsai was invited to address the upcoming Forum 2000, the third time she has been asked to do so in as many years.
Earlier yesterday, the delegation signed several memorandums of understanding (MOUs) for Czech institutions to cooperate with their counterparts in Taiwan.
They include partnerships between the Taipei-based Institute for National Defense and Security Research (INDSR) and the Institute of International Relations Prague, the National Taiwan Museum and the Czech National Museum, and a parliamentary friendship pact.
Adamova's visit has facilitated Taiwan's bid to obtain mobile missile launchers and self-propelled artillery systems, as well as a strategic cooperative for the research and development of drones, the Chinese-language CM Media news site said.
Adamova said that the delegation also signed an MOU to cooperate in the defense of democracy and freedom in Taiwan.
The security cooperation includes cybersecurity, a topic Adamova discussed with Minister of Digital Affairs Audrey Tang (唐鳳), she said, adding that the details of the pacts would be announced by the governments of the two countries later.
The Czech Republic was the arsenal of the Warsaw Pact during the Cold War and its arms industry possesses significant manufacturing capabilities for ground systems, INDSR director Su Tzu-yun (蘇紫雲) told the Central News Agency.
The eastern European country should be considered a potential source of arms and a partner in defense technology, he said.
The military is considering the research and development of indigenous artillery systems after Russia's war in Ukraine caused delays in the delivery of US weapons, he added.
Comments will be moderated. Keep comments relevant to the article. Remarks containing abusive and obscene language, personal attacks of any kind or promotion will be removed and the user banned. Final decision will be at the discretion of the Taipei Times.