Show of strength best China deterrent: former US security adviser
The best way to deter China is to show strength, former US national security adviser Robert O'Brien said at a news conference in Taipei yesterday.
Asked about an assessment that China might invade Taiwan by 2027, which US Secretary of State Antony Blinken concurred with on Wednesday, O'Brien said that the view is consistent with that of many experts on cross-strait issues.
"We have to take them [Chinese officials] seriously at their words" and be prepared, he said.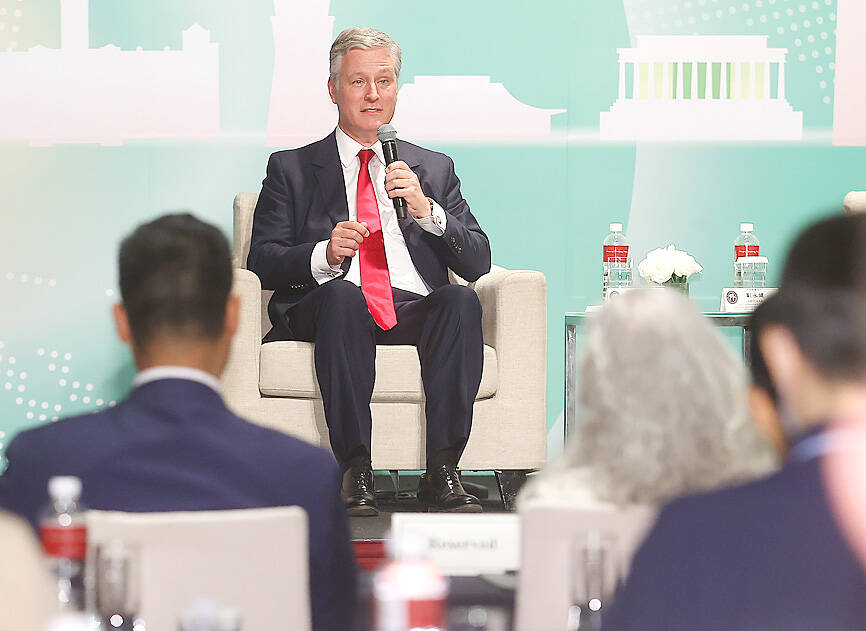 Former US national security adviser Robert O'Brien speaks at a news conference yesterday in Taipei.
Photo: CNA
"We need to do everything to deter the dictators from taking that course of action," he added.
The US and Taiwan want peace with China, "but we can't be expected to sacrifice our freedoms, our way of life, our principles to appease the Chinese," the chairman of Global Taiwan Institute's US-Taiwan Task Force said.
He said that "more needs to be done" to deter China, calling on the US to deliver an approved package of US$20 billion of arms to Taiwan "as soon as possible."
US military supplies to Ukraine and Taiwan "can't be an 'either-or' situation," so the US must increase the capacity of its defense industry, he said.
Apart from extending mandatory military service to one year, which is a "major step" in self-defense, Taiwan can strengthen its aircraft hangars and bunkers on the west coast while bolstering the resilience of its air force, he said.
Eastern and central European countries can serve as examples for Taiwan, as they are preparing their citizens to defend their homes through training provided by community organizations, he said.
Teaching millions of Taiwanese to use the same ammunition as possible invaders can deter Beijing more effectively, he added.
Asked about China's possible reaction should President Tsai Ing-wen (蔡英文) meet with US House of Representatives Speaker Kevin McCarthy in the US next month — a plan US Representative Mike Gallagher said on Thursday would happen — O'Brien said the meeting is "nothing out of the ordinary."
China's attempts to make a consequential issue out of the meeting and change the "status quo" are "not useful," he said, adding that Beijing has no veto over which politicians US officials can meet.
Comments will be moderated. Keep comments relevant to the article. Remarks containing abusive and obscene language, personal attacks of any kind or promotion will be removed and the user banned. Final decision will be at the discretion of the Taipei Times.